BeatTips.com Beat Battle, January 2012 Winner Announced
Upright Edges Out Uhohbeats in Tightly Contested Battle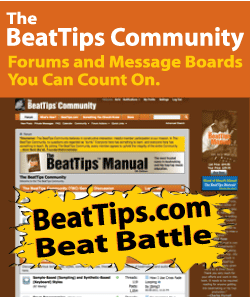 The winner: Upright - "Bear Fruit"
Here's the January, 2012 BeatTips.com Beat Battle breakdown. You can also read it in TBC at: Winner of the January 2012 BeatTips.com Beat Battle Is...
And you can hear all of the beats for January 2012's battle here: BeatTips.com Beat Battle, January 2012
Upright - "Bear Fruit"
One of the most sinister, all-around dope beats that I've ever heard… It's dark, eery, rambunctious, and hypnotic. It's mysterious and yet hauntingly familiar. This beat makes a powerful statement…

The first thing that hit me about this masterfully crafted beat was the swing. On my first listen, of course I heard the bass part (I address that below), but it was the swing of this joint that grabbed me. Not only could I feel the swing, I could hear it. It tumbled and shuffled along with an emphatic, menacing, decadent arrogance (and, man, how hip hop is that?); I felt like it was taunting me and daring me to try to rhyme to it… Excellent room for various rap styles.
And dig the arrangement of this joint:
Two slow-dragging harmony lines that feature a progression that dissolves more than anything else; combined with warped, wavy, wobbling bass stabs—absolutely fantastic! Then the drumwork is flawless, no missteps whatsoever. Each sound—from the silhouette-heavy hi-hat to the tuck-punch snare to the straight forward and clear kick—is a spot-on match for the feel created by the aforementioned harmony chords and bass part arrangement. The tom fill, which is totally unexpected, works as a magnetic change that keeps the listener—more importantly, the lyricist—on his or her toes. I dig the use of toms in any capacity, and Upright's choice to let their velocity speak rather than tuck them in the mix demonstrates his deep understanding of a drum element many beatmakers often get wrong. Finally, the placement and limited occurrence of the open hi-hat shows great discipline on your part. As I listened to and studied this beat, I wondered if you at first had the open hi-hat running more regularly throughout. If you did, your removal of it exemplifies another important quality of a master beatmaker—knowing how to revise, i.e. knowing what to remove and where and when to remove it.
One more thing: That "Something terrible has happened" vocal sample at the :41 mark is just a beautiful touch.

2nd Place:
Uhohbeats - "Lost in My Own Mind"
First impressions: All around good feeling soulful beat with extraordinarily tight construction. Uhoh, this level of construction has become a staple feature of your beats. I should add that with this beat, your understanding of how to flip and merge different parts of the primary source material has greatly improved (and note, your skill with this was already on an advanced level before).
This beat conveys a sure-minded composition. In that I mean, you fully committed to the direction that you wanted to go in. There are no wasted parts or changes that don't belong. Instead, everything works; every element flows (effortlessly) with the next. The drums are sick (as usual). The salt-n-pepper shaker hi-hat pattern is perfect—it's velvet hardcore brush taps give the framework a dope shuffle. Then, on the main breakdown, the hi-hat pattern switches up to a sparse staccato pattern—brilliant programming!
This beat battled it out for first place—for four days straight! It's a perfect beat in every way…. Just as I did with Upright's beat, I considered everything from which rappers would sound dope on it, to what feeling it conveyed, to the nature of the composition; I even considered what type of episode of the shows "Entourage" and "Californication" this beat would serve as a perfect ending for! In the end, it came down to feeling. One beat was smooth, sharp, and deadly; the other was raw, sharp, and deadly. In other words, they were both sharp and deadly, but the raw slightly edged out the smooth.
3rd Place:
BrandonF42088 - "RobinJonez"
This is slick-funk, 2am, slow-roast shit. (Damn if it didn't taunt me into rhymin'.) So subtle, so smooth. I really dig this soulful, spine-crawling type of beatwork. It offers great space for dope lyrical word play and inspired flow. Another thing that I really like about this beat is that you immediately get it; you immediately knod your head to it; it sticks with you.

SPECIAL AWARDS
Segundo Award for Consistency and Contribution
DC - "Gorge"
Your beats have their own distinct sound, style, and quality to them. And with this beat, you demonstrate how to be creative while staying squarely in your own zone. I dig the drums, especially the heavy rolls. And the change at the :57 mark gave this joint a dimension of urgency.
I get the feeling that you've moved into a creative space where you deliberately make beats that can be used both as stand-alone instrumentals and for rappers. No doubt this is due to your burgeoning success on the licensing market. Only thing that I would caution is that as you do gain more success in licensing, do not forget about making joints specifically for cats to rap to. Your arsenal is deep and always polished; I'd hate to see your sound lose some of its hunger and rawness.
The DJ Pas Rhyme Award for the Beat that Made Me Write a Rhyme to It (All New Award!)
DJ Pas – "Light Pas"
Immediately drew me in. Halfway through my first listen, I stopped the beat, began it again, and started writing a rhyme to it. I dig the break; I dig the simplicity of it; I dig how the drums trail the sample, how they're not locked completely on top. That style is reminiscent of Marley Marl's early drumwork.
Because I was so inspired to immediately write a rhyme to this joint, I had to create a new award and name it in your honor.
Get Paid With Heart Award for the #1 Crossover Joint that Still Pays Homage to the Beatmaking Craft
There's a tie: between Castro Beats – "Daggers" and Influence1210 – "Getting It Together"
Castro Beats - "Daggers"
Castro, you're quite the methodicalist. I hear a focused experimentation in all of your beats. This is good because even with all of your experimentation, there are always signs that you know where you're trying to go with a particular beat. On this beat, there are a collage of different things happening. In a fundamental way, this beat puts you in the mind of a Hank Shocklee and the Bomb Squad beat. Only your construction here works in some of today's synth themes; and it does so in a way that gives this beat a decadent balance. This beat is certainly not for a weak lyricist or a rapper with a shallow voice. It's imposing and the balance of sounds gives it a weight that only the most self-assured and lyrically agile rapper could handle. (Ay, yo, wait a minute. I should rock on this beat, come to think of it…)
Influence1210 – "Getting It Together"
Superb!
Influence1210, your musicality is immediately and absolutely apparent. In fact, this is a brilliant piece of work; I was immensely impressed. However, this joint doesn't fall squarely in the hip hop/rap side of things. Could someone rap over it? Certainly. But it has a more "urban dance/pop" feel to it. Is that a bad thing? Absolutely not. Like I said, this beat is superb. For its design and scope, it's everything it should be. But for me, it even goes beyond that because it doesn't just mimic an urban dance tune, it delivers a unique punch and feel, something that certainly pays homage to the art of beatmaking.
TBC Most Improved Award
---
Honorable Mentions:
SC-Beatz – "The Street Tip"
Again SC you return with a beat that showcases your usual shine and polish. However, the transition at the :56 mark takes this beat to new heights of SC-Beatz-craftsmanship. To be certain, this is more of an orchestral style composition. But it doesn't have the clunkiness or coldness that you often find with that style.
One thing I should point out is that this beat is so grand that it would be better served for a film score. As a beat to rhyme to? Not so much.
Krazyfingaz – "Asylum"
Solid. This was some gothic, netherworld shit with a boom-bap underpinning. This beat has a lot of angst to it, which is good because it gives it an edge. The drums keep the sound scope together.
Greenmonstermuzik – "If You See Me"
Nice flip of a well-known classic song. The embellishments are dope; drums dope; and the bounce on this joint is crazy. Ghostface would destroy this beat!
Jtnonefive – "Crazy"
This beat displays a RZA, Wu-Tang Clan influence. The framework locks in from go! Get a rapper on with a devastating flow and you'll have an ill song.
NOTES.
Jerz-E-Ric – "By Any Means"
This beat has a stadium-level weight to it, a sound and feel that would serve well even a less experienced MC. Decent, polished construction from start to finish. But two notes that I want to make: (1) This beat sounds "safe", it's like a run of the mill "beat battle" beat, the kind you regularly hear on the live beat battle and beat showcase circuits. Not necessarily any flaws, but on the other hand, there aren't any chances being taken here, which ultimately leaves the beat less interesting and soulless. (For comparison, check Castro's beat. It's interesting, it's pushing towards its own uniqueness.) And (2) Although this beat does stand on its own merits, particularly with the inclusion of the guitar work, it exemplifies the Just Blaze-bread "big drums" style and sound.
Mike Millz (The Beatsmith) – "Midnight Madness"
Nice mood and sound scope. This joint is laid back, too laid back. It has no "teeth" to it. The kick is dramatically understated; if it had been more forceful or even louder in the mix, the entire beat would have presented differently. Also, the snare sounds like it wants to be opened up and let out.
MelloKid – " K echo"
Straight forward boom bap. The Bass part is one event/note too many. Stay out of your own way with one too many bass-stabs. The drums are on point, but let the drum framework and the main sample work for you.
Chazz Sweet – "Indian Girl"
The sitar pokes out at you too much, if you're considering this beat for a rapper. But for background in a movie, for example an establishing shot for a locale switch, sure, this beat works great. Also, the overall structure of this beat echoes a Dr. Dre/Mike Elizondo number. But their production always has a very tight rhythm to it, and it never carries needless embellishments.
Your synth work (chords) are very much on point! As a beat for a film score, "Indian Girl" is excellent as is. But as a beat for a rhyme, the sitar is not needed; in fact, it doesn't help at all.
(With regard to the sitar "poking out", listen to 2 Legit Productions beat, "Long Haul". Notice how subdued the guitar is.)
The Beat Pharmacy – "Valley of Centuries"
Drums are dope, nice sound to them. Overall, the beat is decent (transitions are excellent), but it doesn't grab you. And like several other beats in this battle, this joint might be better suited for a film/television score. If you already haven't, you should look into licensing.
Donproductionsbeatz – "Nightmare"
First impression: It sounds like a "beat battle" beat—the kind you routinely hear now in on the live beat battle circuit. In particular, I hear the bright, "big drums" trend that's beginning to dominate the live beat showcase circuit.
There's room enough for a rapper to do something with this joint. But it comes off as if the idea of a rapper on it was a second thought to you. Also, even though this beat is fairly decent, it appears that you've either lost or abandoned the soulful quality that used to figure into your beats. Don P, that's not a good thing... In fact, this beat sounds labored, not so much natural and distinctly original, more like an attempt at an well-established template. Although you're able to pull it off to a commendable degree (I'm sure there will be those who dig this joint), it sounds more manufactured than created.

Final thoughts.
This was by far the hardest BeatTips.com Beat Battle to judge… The celebration of the art of beatmaking was so much in effect that it was difficult for me to pick one clear winner. In previous battles, contention for the top spot typically came down to a choice of two. But in this battle, on my initial passes through everyone's beats, there were at least five beats in contention for the top spot. (The range of beats was incredibly encouraging to hear!) This is a major testament to the level and quality of our community. I'm convinced that in the near future, our battle will be the most important and sought after online.
Finally, I want to welcome all of the new members to TBC! Our ranks are growing, we're getting stronger, and our collective voice is going to make a difference…watch!
One more note: The BeatTips.com Beat Battle is for BeatTips.com subscribers and TBC members only. If you have not subscribed to BeatTips.com, please do so before the next battle begins. You can subscribe to BeatTips.com by clicking on the "Get email updates" button near the top right, just beneath the menu bar. TBC members who are not subscribed to BeatTips.com will not be able to participate in future BeatTips.com Beat Battles.
The February BeatTips.com Beat Battle will begin on Friday, February 17, 2012!!!
Congratulations to Upright
Upright email me at: [email]beattips@gmail.com[/email], include your full name and complete address for where you'd like your book delivered. Also, include a pic so I can feature you on the home page of BeatTips.com, and a phone number to where you can be reached at for your interview feature.
—Sa'id