BeatTips MusicStudy: Stevie Wonder's Version of "We Can Work It Out" Meatier than Beatles Original
Stevie Wonder Gives Popular Beatles Tune Some More Soul; Adds New Punch and Feel
By AMIR SAID (SA'ID)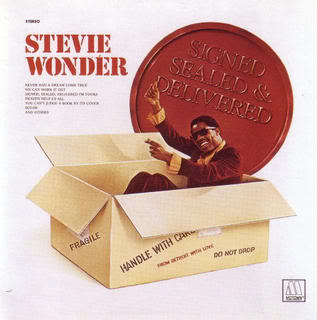 Although the art of sampling is usually not a complete reinterpretation of someone's work in the same way that a traditional version is (i.e. in sampling, snippets and phrases are literally extracted, recontextualized, and refashioned into a new musical piece), I still see a link between sampling and the ways in which one musician is inspired to reinterpret the work of another. For me, this point is illuminated even more when you consider that the art of sampling is rooted in the long-held tradition of versioning (in The BeatTips Manual I cover this connection extensively).

Indeed, as a beatmaker, particularly one with a strong affinity for the art of sampling, I appreciate when great musicians do their own versions (covers) of equally impressive musicians. Mostly, I'm engaged by one musician's ability to convert the work of another into their own style, feel, and scope, without losing the core themes and structures of the original. More specifically, I'm impressed when one's version (interpretation) remains respectful to the original and adds new nuance and dimension to it as well. This is the case with Stevie Wonder's remake of The Beatles' hit "We Can Work It Out."

As far as creative license goes, Stevie Wonder takes grand liberty with his version of one of The Beatles' most popular hits. There are numerous instances where rock groups have dipped into the blues/soul well, pulling out tunes and reworking them with "rock pop magic." But with his version of "We Can Work It Out," Stevie Wonder is doing the reverse. He's taking a rock number—in this case, a 1960s folk pop tune—and dipping it back into the blues/soul well. And what emerges in Stevie's version is a song that respects the original, while going beyond, adding an entirely new scope, essence, and vibe.

While Stevie Wonder shadows the basic structural framework of the Beatles' original, there are a number of new dimensions that he adds for his version. Stevie's remake starts with an 3-bar organ intro (a signal that Stevie's signature will be all over this version), then the drums crash in. And while the original actually has a nice rhythmic pattern (albeit tucked low in the mix), the Stevie version amps up the drum scheme, making the drums, as well as the entire piece, sound more "meatier" than the original. The kick and snare drums punch and pounce, springing off of each other, while the hi-hat and tamb shuffle throughout.

For the rest of the arrangement, Stevie Wonder makes two other standout changes. First, he strips out the strings that stream through original. This "tightens up" the groove of "We Can Work It Out," effectively making Stevie's cover edgier while rendering the original almost tranquil in comparison.

Second, Stevie Wonder incorporates a milky bass line that "walks" in deference to the priorities of soul more than it does to rock. This, along with the drums as described earlier, also adds to the urgency and aggressiveness of Stevie's version, which makes the original, folksy as it is, sound much more passive aggressive. Here, I'd be remiss if I didn't also highlight Stevie's harmonica solo at the midway of his version.

Finally, Stevie Wonder's treatment of the vocal arrangement is as impressive (if not more) as everything else in his cover of "We Can Work It Out." Six bars into Stevie's cover, and we hear a voice belch out "Hey!" This "Hey!," an added background vocal element that's non-existent in the original, alternates in pitch, giving Stevie's cover a unique swing nuance not found in the original. And with the rising gospel background vocals turn up in the latter half of Stevie's cover, the tune slides briefly into the Black church music tradition.

Then of course, there's Stevie's lead vocals. A comparison of Paul McCartney's or John Lennon's vocals to Stevie Wonder's is perhaps an unfair or misleading one at best, inasmuch that Stevie Wonder and the two Beatles front men are approaching the song from two different traditions, with two entirely different vocal priorities and styles of vocal inflection. Still, it's worth mentioning that Stevie's soulful reworking of the original—no doubt powerful in its own glory—makes it sound more searing; indeed, converting it into a freedom song/black power amalgamation.

In short, Stevie Wonder's version of "We Can Work It Out" is nothing short of a magnificent transformation. And to a certain degree, you could say that Stevie Wonder "flipped" the Beatles original. Does that mean that Stevie Wonder's version of "We Can Work It" is better than the original? I'm not sure if that's a question worth entertaining. Both The Beatles original and Stevie Wonder's version are great
music works. Each shine in their own regard, and each travel along the paths of their creative priorities and influences.

So a far better question at this point might be what do you think enables any musician to pull off a quality version of a fellow musician's work? Well, I'd say that along with music performance skills as well as a broad based knowledge of music history, various musical processes, and music forms, a fundamental respect and reverence for the musician(s) whose music you rework is key. I think Stevie Wonder covers all of these variables. And that's exactly why his version works so well.

The music and videos below are presented here for the purpose of scholarship.
Stevie Wonder - "We Can Work It Out"

The Beatles - "We Can Work It Out"
---
The BeatTips Manual by Amir Said (Sa'id).
"The most trusted name in beatmaking."