BeatTips MusicStudy: DJ Premier and Bumpy Knuckles are "Inspired" to Be Dope
As DJ Premier and Bumpy Knuckles Prepare to Release their Heavily Anticipated Album Kolexxxion, Here's a Closer Look at One of their Recent Gems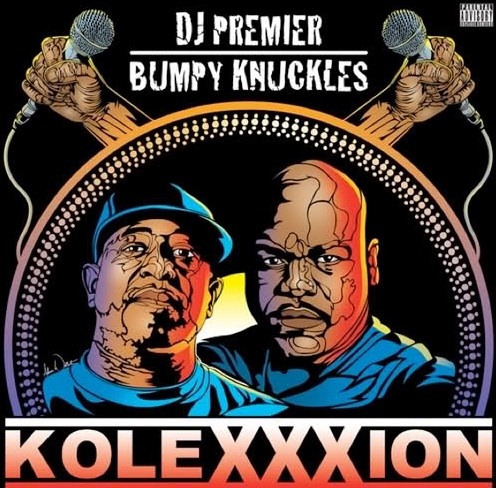 Feeling, more than anything else, is what draws me into a piece of music. Beats and lyrics can do many things, but if they don't have feeling, they're missing something crucial. Over the years, there's only been about a handful of beatsmiths and rhymers that consistently offer feeling in their music. Among those, DJ Premier and Bumpy Knuckles (AKA Freddie Foxxx) have always stood at the head of the class. And by all indications of their pre-album EP and pre-drops of songs from their album Kolexxxion (due for release this upcoming Monday, March 26th), Kolexxxion will not only be smoldering with feeling, it's poised to be one of the strongest releases in recent years.
In honor of the forthcoming release of Kolexxxion, I wanted to do a MusicStudy of one of the pre-album EP (Stoodiotyme) cuts, "Inspired By Fire". After the MusicStudy, I've also included the Bumpy Knuckes f. Nas "Turn up the Mic" DJ Premier remix that was just leaked.
Here's the MusicStudy...
DJ Premier is at his best with these type of beats. Here, as he's done so well in the past, he captures the urgency that's embedded in street-level rap music. Working from a formula of converting beauty to gritty back to beauty, he masterfully takes a beautiful string passage and converts its harmonic, sonically warm quality into a rhythmic chamber that echoes sinisterly every time it repeats. Keep in mind, no two beatmakers loop sounds the exact same way; listen closely to how the main sampled phrase lands with the start of the drum measure. That looping style and sense of timing is a staple of all of Preem's beats.
And with such a complete composite execution of the arrangement of the samples (and cut-offs), you almost miss the raw perfectness of the mellow bass EQ on the samples, and, of course, the drums. The drums feature a hi-hat in sprinkling mode, almost like it's chiming in back and forth. And the snare sounds like a rock rain dropping on a glass surface. Please understand: You can not emulate this sound with quantizing or some other plug-in or similar effect or some one-size-fit all stock sound; this sound is customized and part of Premier's whole style, rhythm, repertoire, and sound.
The next thing that struck me about "Inspired by Fire" was the swing of the beat. The Swing on this joint is severe, it moves along with a shuffle and pull feel. Each time the snare lands, it draws you in even more. This is especially worth pointing out because Premier doesn't rely on any special quantize effects or the like for the sense of swing that all of his beats contain. Premier's sense of timing and, subsequently, swing, comes from his training and understanding as a DJ—mixing, blending, cutting records together, etc. (In The BeatTips Manual, I extensively discuss how DJ'ing fostered the art of beatmaking.)
Incidentally, this is just one reason that I always champion the DJ and the legacy of the art of DJ'ing. A background in DJ'ing gives a beatmaker, particularly a sample-based beatmaker, a tremendous advantage in every area of the art of beatmaking. But even if you have no experience as a DJ, you can still improve your timing by closely listening to records with multiple rhythms like early funk, soul, British ska, etc. Either way, keep in mind that an over reliance on timing correction and similar effects will make your music sound quite mechanical and forced, less natural and devoid of a strong sense of swing.
As for the rhyme on "Inspired by Fire"...
Here's what you get with every Bumpy Knuckles rhyme: Straight talk and skill. Bumpy's wordplay is never obscure, he always aims to be understood. Sure, it's "stick-up-kid-smooth", but it's never hallow machismo. Every line is a sure-shot piece of who he really is. That's the refreshing thing about any verse that Bumpy spits.
Furthermore, Bumpy's rhymes are always non-pretentious; and he's not concerned with punchlines for punchlines sake. He doesn't try to represent anything he doesn't have a solid, real-life understanding of. Plus, Bumpy rolls through each verse, never looking backwards or gawking at the power of the previous line. Instead, he treats each line as a reference to his life and hard-earn career status. He's been there before, and like any professional knows, with every solid achievement, you act like you been there before—no need for overstatements... Again, this is another refreshing quality about a Bumpy Knuckles rhyme. And this especially important now, a time where many contemporary rappers pause and stare at their own punch lines...
Finally, there's the flow. It's actually a well-skilled, clever mish-mash of mutiple flows and wordplay, tempered with a late '80s survivor's confidence and Bumpy's own unique method of suspending the speed of his delivery. And we're not just talking street smart but broad intelligence:
"…pen a career like Dunbar/one bar, grown man tone/nobody does it alone/"
Trust your ability to not trust/But should never fall victim to not trustin'/...
That's a Jewel.
—Sa'id
The music below is presented here for the purpose of scholarship.
DJ Premier & Bumpy Knuckles - "Inspired By Fire"



Bumpy Knuckles feat. Nas - "Turn Up the Mic" (DJ Premier Remix), from the DJ Premier & Bumpy Knuckles album Kolexxxion
---
The BeatTips Manual by Sa'id.
"The most trusted name in beatmaking and hip hop/rap music education."