BeatTips Top 30 Beatmakers of All Time: #1
A "Top" Beatmakers List with a Deeper Meaning and Purpose
AMIR SAID (SA'ID)
NOTE: If you've already read the disclaimer about the nature of the BeatTips Top 30 Beatmakers of All Time, jump to the bottom for the link to the corresponding list number.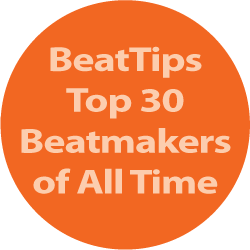 Whenever lists of this sort appear, they're generally presented with little or no serious discussion about the list beforehand. Perhaps that's fine for pure entertainment purposes. But for readers to get the best learning experience from a review list of this kind, I believe there are a number of things that readers should know up front. Thus, I'd like to offer an important disclaimer about the nature of the BeatTips Top 30 Beatmakers of All Time list and the criteria used to determine which beatmakers were added.

The Nature of this List
The BeatTips Top 30 Beatmakers of All Time list is one of the first sub-projects of the BeatTips Art of Beatmaking Education Project (ABEP) that I recently started. The fundamental purpose of the BeatTips ABEP is to help preserve, promote, and expand the beatmaking tradition of hip hop/rap music through a series of specialized projects. In this way, the BeatTips Top 30 Beatmakers of All Time list is meant to serve as a discussion, MusicStudy, and general research portal.

Next, the BeatTips Top 30 Beatmakers of All-Time purposely omits the word "producer", and here's why. In the hip hop/rap music and beatmaking traditions, the term "producer" is often synonymously used to describe a beatmaker. But as I point out in my book The BeatTips Manual, this is not always appropriate particularly because the definition of "producer" can be murky: "Hip hop production is the creation of hip hop music. And although this description broadly covers every dimension of hip hop/rap music, the term hip hop production is used most commonly to refer to the making of the hip hop/rap instrumental — the beat. So technically speaking, a beatmaker, one who makes beats, is a hip hop producer; ergo, a beatmaker is a producer." But "producer" is a loose term that can be used to describe anyone within the process of the final sound of a recording. Simply put, a beatmaker is someone who actually makes beats. A beatmaker can indeed be a producer; in fact, most double as both. (Further, being a beatmaker is not in anyway less noble than being a producer!) However, and this is a critical point, a producer need not be a beatmaker. Hip hop/rap music is littered with people who have "producer" credits, even though they never actually made (or assisted in the making of) any beats. Thus, The BeatTips Top 30 Beatmakers of All Time List only includes beatmakers. Of course, each beatmaker on this list has also rightfully earned the title of producer.

There are four other important things to know about the nature of The BeatTips Top 30 Beatmakers of All Time list. First, the purpose of this list is to educate. Hopefully, new beatmakers will be introduced more appropriately to some prominent beatmakers that they've only heard about in passing. And beatmaking veterans will be reminded of just how far the beatmaking tradition has come. In either case, I'd like this list to prompt some serious exploration and reflection from readers. Preserving and expanding hip hop/rap's beatmaking tradition requires historical examination, present-day review, future speculation, and, at times, constructive (helpful) debate.

Second, this isn't a list to appease anyone that I know personally. I can count a number of beatmakers as friends; and I've interviewed many well-known and lesser-known (but quite acclaimed) beatmakers. That aside, I've made no effort to show favoritism in the making of this list. My objectivity — and naturally subjectivity — in the making of this list was based on the catalog of work of each beatmaker that I seriously considered.

Third, this is not a list intended to be safe, so as to not offend anyone. Top lists of any kind tend to offend one group or another, so I'm all right with that. And certainly, a top 100 list would have given me enough coverage to include everybody's favorite. Even a top 50 would have allowed more room for adding all of what many would consider to be the obvious names. Still, a top 30 list presents a challenge, especially when you consider beatmaking's classic past and its mixed present. I'm not interested in gathering up an easy list of names. Instead, I want readers to seriously think, perhaps even broaden their own thoughts about how, why, and where they rank their favorite beatmakers.

Fourth, The BeatTips Top 30 Beatmakers of All Time is not a "hottest in the game right now" list. I deeply respect longevity, particularly because it requires talent, drive, integrity, and hustle. I'm less interested on shining a light on just this moment in time. In fact, I believe all-time lists offer a better learning (and discovery) experience for readers. This is especially important for new beatmakers who are often less familiar with the names and critical works of earlier times.

The Criteria
When making the BeatTips Top 30 Beatmakers of All-Time list there were many different things that I considered, far too many mention here. But there are 8 main criteria that I used in making this list:

(1) Body of work. Without the work speaking for itself, there could be no serious consideration of any beatmaker who made this list. And while I did not deem it necessary that each beatmaker on the list had a massive catalog, the sheer number of beats (recognized and respected songs) of certain beatmakers could not be ignored. Therefore, a larger body of acclaimed work was, appropriately, given more preference. Also, special attention was paid to how many songs a beatmaker had within the cannon of hip hop/rap music, as well as whether or not a beatmaker contributed to the career of another pivotal hip hop/rap artist's career. I should further add that the body of work that I've considered here is hip hop/rap only! Whether a beatmaker could or did produce music outside of the hip hop/rap genre had no bearing on where I ranked them with respect to hip hop/rap music. If I were ranking all-time horror film directors, it would be silly to include the comedic works of those directors as consideration in where they should be ranked. Likewise, neo-soul, drum-n-bass, dub step, etc. has no influence on a hip hop/rap ranking.

(2) Critical acclaim for a clearly distinguishable and/or signature sound. Preference was given (as I believe it should have been), to those beatmakers who either established their own well-recognized signature sound or contributed considerably to one or more of the 8 distinct periods of beatmaking.

(3) Minimum of at least three critically acclaimed (not just top sellers) songs, albums, collaborative works, etc. within the last 30 years. Part of being a standout in any art medium is recognition within the field. Sometimes this means big hits, other times it means well-respected songs that most skilled beatmakers know of or appreciate for what they are. And note: this particular criteria reflects the reality that some of the best in any given field are overlooked for various reasons. However, this does not diminish their work. Moreover, history is loaded with artists who didn't get their proper appreciation until late in or well after their careers.

(4) The number of lyrically acclaimed rappers — in their prime — who rapped over their beats, and/or the subsequent "classic" songs created over the last 30 years. This is of particular importance for two reasons. First, it serves as proof as a particular beatmaker's automatic place in the canon of hip hop/rap music. Second, it demonstrates the popularity and respect of a beatmaker among the best rhymers of their and other times.

(5) Real, not misperceived, impact and influence on other top beatmakers
of all time. Everybody has to be influenced by someone. But who influenced most of the beatmakers on the BeatTips Top 30 Beatmakers of All-Time list? Not surprisingly, many influenced each other.

(6) Real, not misperceived, overall impact (or likely impact) on the beatmaking tradition. In other words, what was their recognizable impact on the beatmaking tradition itself? For instance, what developments, styles, techniques, ideas, etc. did they contribute to the beatmaking tradition?

(7) Longevity. How long was a beatmaker able to maintain his career. For various reasons, some beatmaker's careers were cut short, while others have continued to blossom since they first began. Thus, longevity wasn't measured in a sheer number of years, but in terms of body of work within the frame of time a beatmaker made his name. Think of it this way: Jimi Hendrix's entire body of work is just four years…

(8) Projected influence and impact on future beatmakers. Of course, this is speculation at best. No one can predict the future. Still, we can recognize the lasting contributions made to the beatmaking tradition by certain beatmakers.

One final note about this list: It's not static. That is to say, the beatmaking tradition is constantly expanding, therefore, this list will necessarily need to be adjusted to account for new production output by beatmakers, as well as new research by myself. Thus, each new year, in September, a new BeatTips Top 30 Beatmakers of All-Time list will be generated.

Click here to see the breakdown for #3 on the BeatTips Top 30 Beatmakers of All Time list. Note: Each day in September, one number from the top 30 will be revealed, continuing from #30 all the way to #1.

---
The BeatTips Manual by Amir Said (Sa'id).
"The most trusted name in beatmaking."