BeatTips Interviews Minnesota
A Frequency Runs Through It
By AMIR SAID (SA'ID)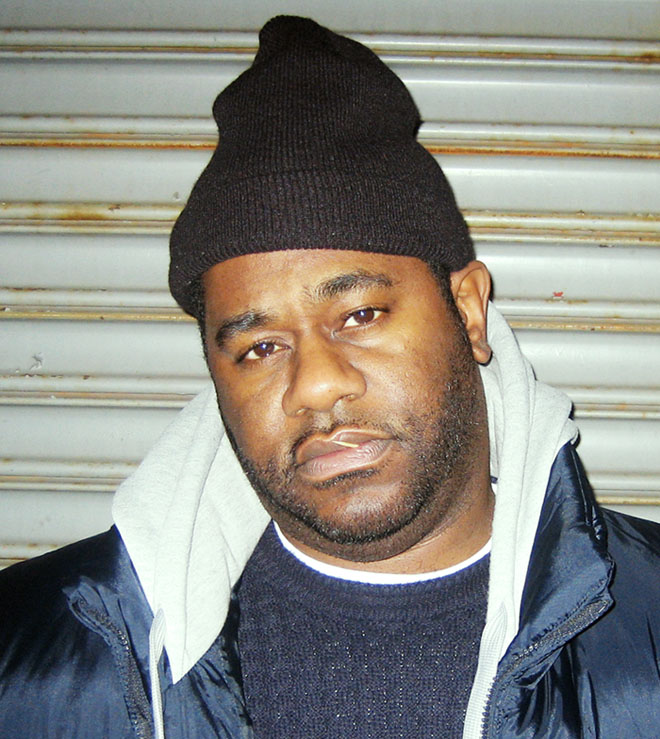 (Photo credit: Amir Said)

Understanding. It's one of the primary keys to crafting quality beats. Understanding is something South Bronx-bred beatmaker Minnesota has plenty of. He understands why beatmaking (hip hop production) has moved into the forefront. He understands that one of the beatmaker's most fundamental roles is to provide the right frequency for a rapper to rap to. And, most importantly, he understands the essence of a dope beat and what it takes to become a skilled beatmaker.

Minnesota (or "Minnie" as he's called by those who know him best) is the rare no-nonsense but jovial type. Bronx born and bread, he witnessed hip hop as a young child in the late 70s, which gives him a perspective not matched by many today. Because he studied the hip hop from its inception in the Bronx to its meteoric rise worldwide, he has an acute understanding of how hip hop culture and rap music mixed from the 70s on into the 200s. A beatmaker (producer) who enjoys discussing the intricacies of the art of beatmaking, Minnesota's knowledge of the craft runs deep, and he's also one of the biggest advocates for beatmaking education that I know. While working on an earlier edition of The BeatTips Manual, Minnesota and I got together to do a series of formal interviews. Below, I've put together the highlights of those discussions.

BeatTips: When did you realize that you had skills to make it?
Minnesota: Well, production wise, I was always indirectly into music. It was somethin' that I always loved. So from the second that I picked it up… I bought my first beat machine in 1994. By 1995, I was selling tracks. I was taught by Scratch, the producer of KNS (he did "Déjà Vu" for Lord Tariq and Peter Gunz). I was coming out of the street, getting into music. I got the ASR; well, no, the first thing I got was the EPS 16 by Ensoniq.

BeatTips: 1994? Good Year! So what skill do you think you've developed the most since then?
Minnesota: The tide of music is generic right now. So I really had to learn how to dumb-it down. Doin' music that's acceptable to masses of people. The music that I usually be doin' is some Advant Garde shit, music that's ahead… A lot of times when I do a beat, I don't like to do it with my ears, I like to do it with my spine. I like the no-brainer—the first 5 seconds of the beat is hittin' you.

BeatTips: A lot of producers that came out of that mid-'90s period resisted change.
Minnesota: Not me, 'cuz see, there's always my artistic mind and then there's my hustlin' mind. There's always the mind that wants to get a lot of paper [money]. And then there's always the mind of creating something because it's some real ill shit. So there's two minds. I could do something for someone like Mariah Carey, and then I could do something for someone underground… But just being a producer, sometimes you'll be hard-headed, just wanting to go in one direction. When that happens, you become your own worst enemy.

BeatTips: What's currently in your setup?
Minnesota: ASR-10

BeatTips: You don't mess with the MPC?
Minnesota: Nawgh, none of that shit… It's always the n*gga, it's never the machine! I will say I lack certain keyboard sounds, the Ensoniq [ASR-10] doesn't come with all that. There was a time when I was getting ready to get rid of it and I had gone with Tariq to Virginia. And we were in the studio with Pharrell [and Chad, the Neptunes] and I was getting ready to get rid of my machine…And I had gotten to see Timbaland's setup and Pharrell's setup, and at the base of their shit was the ASR-10. It's a machine that might not be modern, but you can really get it off. I'm not close minded. There's other different shit that I'm going to fuck with. At the time, I just didn't come across any other machine that I wanted to use… I was never really big on the 1200 [E-Mu SP 1200]. And MPC's just remind me of updated 1200s. I was really more for the keyboard, 'cuz I could play by ear… The sounds in the ASR come in layers. I can strip layers, I can take two different sounds and glue 'em on, you know what I'm sayin'. Tone it, glue it on, pitch it, then I'll have a different sound.

BeatTips: I remember once when you and I were in the studio and you were telling me about this clap that you had made; you had layered some percussion over it. Is that a stable of your sound? Do you do a lot of layering?
Minnesota: Yeah, I do a lot of layering. Layering and pitching, you know what I'm sayin'. That's the good thing about the ASR. I mean, I'm not going to say that you can't do it on other machines, but there's a certain warm sound that the ASR already comes with. Its got like a raggedy warm sound already. So even if I'm doing a keyboard beat, it sounds a little different then a nigga on an MPC.
Ghostface Killah - "Beat the Clock" (Prod. by Minnesota)

BeatTips: When you sample your drums, how do you do it? Do you sample them dry or do you do all your effects after?
Minnesota: Nawgh, I do everything dry. I don't know if that's a downside or not; I just grew up lovin' warm music. I do all my shit dry. Unless I'm in the studio and I want to go a certain way.

BeatTips: What do you owe your sound to?
Minnesota: I like to do music that hits you right away, music that you feel. That could be a downside, though. 'Cuz the music that's out right now is microwave shit. You understand. It comes and it goes! But me, I just like that real, real good shit. I try to give it raw. Even with my keyboard joints… I don't like to be boxed in as a producer. I can do anything. I can do Reggaeton, I can do R&B. But my forte is spittin' out the joints that I like, and I'm known for that.

BeatTips: You did the theme song for Def Poetry Jam. Them violins was crazy. Now, for that beat, for something like that, you would think that you had to have a musical background where you were taught how to arrange music traditionally.
Minnesota: Well, what happened with that was there was a sample that couldn't be cleared. So we had violin players come in and I had to hum it to the best of my ability. I like the beat. But we got close, but far, from the original tune… Even still, it fit so good with what was going on with Def Poetry. But the original sample, they was talking house and swimming pool money to clear it! People like how the final beat came out. But honestly, in my heart I didn't like it, but that was a paper [money] situation.

BeatTips: Right now, reflectin' back on your career, what producer or producers had the most influence on you early on? Who took you in early on?
Minnesota: SHOWBIZ!!! From Diggin' In The Crates. That nigga opened my ears! Back when niggas was just sampling. Showbiz was the one that told me that I was listening to the records all wrong. Like, I would sample 1,2,3,4. He taught me 3 ½, 4 ½, 2 ½; like to catch it so awkward where nobody would be able to figure out what you did. He was the first person that showed me how to chop. And I just took it to Mars. He was on the SP 1200… I can always say that I owe all of that to Showbiz from Diggin' In The Crates.

BeatTips: So how were you choppin' before Show put you on?
Minnesota: Musically, it was like, when I got on the machine… you know how some producers are crazy over the megabytes and the gigahertz. I don't know about none of that shit. I'm not technical AT ALL! My setup is hilarious to producers, when they come to my house, 'cuz my shit is hooked up to a CD player! Niggas be buggin' like, "Yo, where's the studio?" I'm like, 'Fuck a studio.' I'm always more for the feeling of the music, or more for the frequency. Niggas be having the biggest studios and THEY BE TRASH!!! It's never the machine, it's the nigga. Like, if you put Pharrell on anything, he's gonna come up with something wicked.

BeatTips: Considering what you just said, for somebody's that's never been into producing, how would you recommend they spend $3,000?
Minnesota: Man, let's not lie: If I wasn't a ASR nigga, I would've been one of the MPC niggas…an MPC something! 'Cuz that is a hot machine. I've pressed on the buttons and I like the way it does drums. You can do like the stutter kicks…You can't do that on the ASR…

BeatTips: You got joints with the stutter kick. So how do you do that on the ASR?
Minnesota: I gotta slow the shit down. If I got a beat going at 93 beats per minute, I gotta slow the beat down to like 51 and then play in the kicks, and then turn the BPM back up. That's the downside to the machine. And the ASR doesn't timestretch. That's the only other thing that I hate. Other than that, man… But what I would recommend to someone is some kind of MPC. I hate the Triton. I never liked the sounds in it.

BeatTips: Are you into downloading sounds?
Minnesota: Nawgh, but there was this one kid that came by who did that. He used Fruity Loops. On a scale of 1 to 10, I'd give his beats a 6. And he was like, "I dig. I don't dig like you do. I dig on the computer." He said he could find records. That's cool, but there's just certain things that you're only going to find on vinyl. Like artifacts. Extinct shit, where you could sample it, put it out, keep your mouth shut, and you don't have to clear nothing. The thing that I would like to say to all producers is Shsh!… Stop talkin'! 'Cuz this is our own "intellectual property". People shouldn't know about our oil. This is our oil! They know too much about our oil mine. Let's shut up and we can get away with a lot of shit! If they want to find the sample, let them go look…FOREVER! We tell on ourselves too much… We tell on ourselves too much, musically! Producers: Shut Up. We got the power. You know, these idiots get on the music sometimes and fuck it up. But the producers have always been the ones who have had a burning passion to keep a certain frequency alive. So we control the music, you know what I'm sayin'. A producer shouldn't be going home like, "I'm a do a street beat." These people are defining us so much that they're even fuckin' with the producers' mind now. And psychologically, it's just got a lot to do with controlling our music and everything.

BeatTips: So what do you tell somebody who's got the skills, but they can't seem to break in… What's their next move, how should they approach it?
Minnesota: You know, breaking in is based on politics a lot of time. There's such a pretentious ethic that goes with the music game. You know, when you're dope, you're dope. But it's like…one name gets you to another! Like when you find that one person. I don't give a fuck if he's in the mail room at Sony. He knows somebody, he's gonna play your music for somebody…Point is, you gotta get with people that truly have a burning desire for your sound, your music. You gotta go with the one-name-gets-you-to-another approach. And that doesn't mean that you have to be a disloyal person. You kind of gotta go from branch to branch, to kind of move forward… And another thing for producers is get any exposure that you can! Get in front of a camera, 'cuz we all have a laid back way where we don't wanna be seen, or we don't wanna be heard. Now, it's a different era. It's about being visible. 'Cuz you can be trash, but visible and everybody's gon' come and get your shit. There is a different game being played. You just gotta have your artistic mind and your business mind, your hustler mind, like in reference to hustling your music. Like if the South is poppin', you go to the South. Stop runnin' down to these motherfuckers, tryin' to shop beats to these idiots. We in New York, but New York is not poppin' right now, 'cuz there is such a hateful, pretentious ethic that these black people use on each other. If you go in the South, yeah, you might not get $20,000 a beat, but you might get $6,500 cash, and they buy four of 'em from you at once!

BeatTips: How would you say that you broke in? A lot people credit 50 Cent for using the Mix Tape movement as a way to break in. But I remember the Money Boss Players' mix tape movement years before…
Minnesota: Times change, and you can't be no asshole. 50 provided a climate of somethin' that really happened with music. There was some real criminal shit going on in Queens; and he's talented, you can't take that away from the nigga…We [Money Boss Players] always down-played the street game. We was a small circle, and we was always real rap niggas…The Money Boss Players was me, Lord Tariq, C-Dub, Big Eye, Eddie Cheeba, and Trè Bag… You know what though…See, people look at rap…Like, I love 50 Cent and the G Unit movement. I love Murder, Inc. I love the Dipset…I'm not a hater… I love the Ruff Riders…What happens with our music is…I don't know if I'm going off but this is something that I really gotta get out…What happens with our music is they can't push drugs on the black community anymore, like they used to.
When crack came out, it was on every corner. Every 100 feet…Crack was an epidemic. It really hit us. It tore the black community a new asshole. So now, the new drug is thug! The kids don't wanna' be the junkie no more. Everybody wants to either be the shooter or the dealer. Now there is a machismo…And it's creeping into the music…Let me put it to you like this. I like where the South is coming from with theirs. Because hard core is having its time to burn itself out. The South is bringing a playful thing into it… In '91, '92, the ganstas in the street was waiting for A Tribe Called Quest and Leaders of the New School to drop… See, music is spiritual government. It's like a silent government over masses of people. Music can make you go kill someone! I pay attention to frequencies. I'm a producer. I see how certain frequencies hit people and their faces cringe up. You can't stop music from goin' in. So the government had to control our community through the music, 'cuz they can't push drugs on us! Producers…we provide a frequency to a poet. We're frequency providers, you know what I mean…

BeatTips: Word… Yo, to you, what's the difference between a beatmaker and a producer?
Minnesota: Well, everybody's different…And that always transcends in your music… I don't know how to explain it but check it out…You listen to Premier, you can hear Brooklyn in his music. You can hear he comes off the cloth of '80s in his music. In his frequencies that he picks to put out and sell, you can tell he's somewhat of an elder, that he's been around some shit. You can hear that he was some type of street dude in his music. Or you can take the Neptunes, the Virginia sound. You could hear that the Virginians really loved hip hop music. But they have a southern tinge on them…But you can also hear that they loved New York hip hop. We are ALL musicians!!! Even if we're sampling, we're just musicians…I don't like the producer or the beat man shit! What I'm saying is this: I know how to make songs. I'm dope at it. I'm in a song zone, now. I hate just doing beats, now. Almost every joint I do, I hear the song to it…I'm just now getting into the song part of it, 'cuz I was always trying to sell beats for money… I loved Ghostface on "Beat The Clock". Big Pun grew up over here with me. And I underestimated him, but he made me see his vision. That's what I loved about Chris [Big Pun].

BeatTips: Some people have told me that they don't really get into listening to music. Do you listen to music on a regular basis.
Minnesota: I used too. You gotta understand. The crack babies are doing our music right now! I know I'm ol' school in a lot of ways. [These new cats] cater to a mind state, a massive mind state. The music game is fucked up because the producers are not A&Rs. You put producers and DJs behind desks, you'll get doper music; you'll get a lot more good frequencies. But you know what though, there are a lot of good things resurfacing. Like Little Brother. That sound is a certain sound.

BeatTips: About a year ago, we was buildin', and you mentioned somethin' real about what Kanye West brought. Speak on some of that…
Minnesota: Well, if I can say one thing that I always say about him. He evened the playing field! He killt' the machismo… He brought back the 'nigga, be comfortable with yourself'. I like that shit. He just evened the playing field to where you didn't have to be just that nigga over there. And you couldn't discriminate against him because he's the producer. There's a different stigma. The public will allow you freedom if you're the beat man. But if you're a rapper, it's like, "nigga you gotta be this way"… Kanye's music feels good, let's not even sit there and lie… The first thing you gotta understand… I just want to get to somethin' about the South. If you're doing hip hop music, you're doing Bronx music! That shit, we did that shit. When I was running around playing tag in the Bronx, I was listening to southern music, if that's what it is, man Batta [Afrika Bambatta] and 'em with the "Planet Rock", and they rocked the planet with it. And then it went to Miami, and then it stretched out from there. Miami bass was South Bronx music! If you're doing rap music, whatever the fuck you do, you're doing Bronx music! The culture was birthed here. And New York stretched it out, and it went wherever it needed to go. Every sound that was ever featured, they did it hear a long time ago.

BeatTips: How does the business work? How do points work? And Explain how you will have to chase people down for your money.
Minnesota: If you can, I think that everybody should start out with two lawyers. I mean, everybody gets jerked, it's fucked up… To a beat, there's always 200%. There's 100% writer's and there's 100% of the frequency [music]… Yeah, it's fucked up. I have had situations. It's ugly when it comes to paper…There's just so much shit…And one more thing. Yo, tell a friend to tell a friend: DO NOT FEEL BAD ABOUT CALLING A MOTHERFUCKER 90 TIMES for your paper, in one day. Because they have a reverse psychology, where they make you feel bad about calling for your money, like you're a bum. NO!!! You worked for it. Get your lawyer. These people behind the desk might make $60,000.00 a year, and now this record company owes you $50,000.00 off of one hit. GET YOUR MONEY. These jerks… These cock heads…These A&Rs. I don't know where they get them from…

BeatTips: I hear this a lot: "If you ain't got it, you ain't got it." How do you look at that?
Minnesota: That's ignorant to say. No one has pristine eyes. Everybody's got a different story. Your background, where you come from…Your life is gonna' go the way it's gonna go…Like me, I know music. There's no arbitrary time frame, but you gotta be where it's goin' on. You can be a half-decent producer, but be around people who are consistently gettin' some money. You have to be around it… be in contact with the right people!

BeatTips: I write that the equation looks like this: the person + the device = success. What order would you rank the machine…What order do you rank a person's background… What order do you rank where a person lives…What order would you rank a person's music introduction?
Minnesota: Motivation, Personality and Talent. Talent don't mean nothing! I got a ton of it. I should be making somewhere in the lower millions. But my personality. My brutally honest shit is a thorn in the industry. Motivation, I'm 60/40…60% motivation, 40% beware of people!

---
The BeatTips Manual by Amir Said (Sa'id).
"The most trusted name in beatmaking."