Extended Shelf-Life: Bronze Nazareth's 'School for the Blindman' — One of the Best Rap Albums in Decades
Soulfully Hard and Authentic, Loaded with Dope Beats and Edgy Rhymes, School for the Blindman Confirms that Bronze Nazareth and The Wisemen are in League of their Own
By AMIR SAID (SA'ID)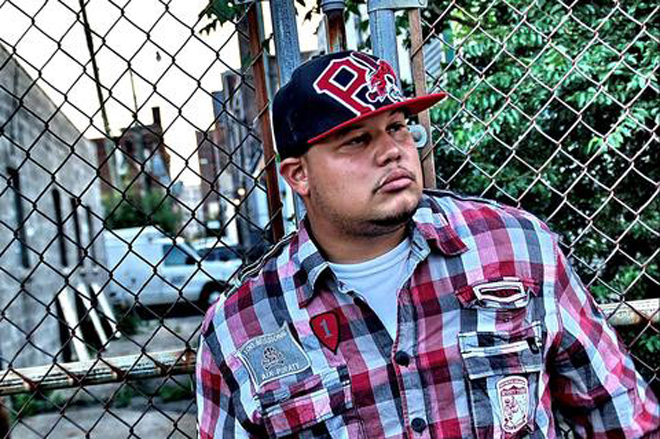 BeatTips Rating: 5/5
"Roll dice in old piss" —Bronze Nazareth
We often like and celebrate an album because of its power to take us somewhere. The vivid images that it calls up; the memories that it inspires; the emotions that it makes us feel — these are the things that, when present and prominent on an album, take us somewhere.

Hit play on Bronze Nazareth's enigmatic album School for the Blindman (iHipHop Distribution), and you're instantly transported to a music world that's oblivious —thankfully so — to the oversaturated, gutless or otherwise cookie-cutter abstracts that make up most of what we know as mainstream rap music today. But School for the Blindman doesn't just stand out as an obvious counterpunch to the jingle-filled, 808-dominated rap, it distinguishes itself from all other recent underground offerings as well. In fact, I find School for the Blindman to be one of the best hip hop/rap albums in decades.

Prior to School for the Blindman, the only other hip hop/rap albums that I found that I could listen to straight through with repeat extended plays were lllmatic (Nas) and Supreme Clientele (Ghostface Killah). And like those two classic albums, School for the Blindman also stands out because of it's stellar, ear-catching production (soul samples & ill drums galore) and concrete rhymes. No beat on School for the Blindman is a mail-in job or simple drum program re-run. Instead, every beat contorts with its own structure and direction.

Truly a "beatmaker's" beatmaker, Bronze's production (he produced all but three tracks on the album) illustrates organic drums, well-conceived chops and arrangements, uniquely filtered phrases, and a powerful injection of feeling. As per Bronze's style and sound, the art of sampling shapes the entire framework of School for the Blindman. And as with his previous efforts, all of the frequencies sampled and flipped make up amazingly hypnotic sonic textures that hold you at attention and demand frequent replays. (Bronze employs a smooth but defiant sampling style that priorities feel over needless complexity; thus the main reason that his beats draw you in.)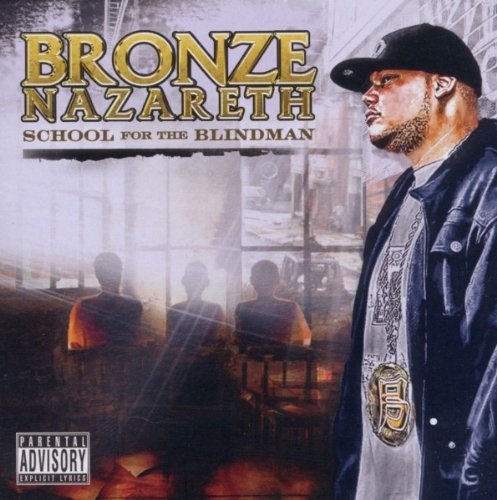 As far as the rhymes go, here, too Bronze shines. On "Fresh from the Morgue," which features one of the dopest sounding hooks ever and a verse from The RZA, Bronze drops this quotable, "I'm so ill bring in the nurses to see him/my bitch purse is bulimic." This kind of smart, layered slant rhyme is a staple throughout School for the Blindman. But then there's the deeply personal "The Letter," where Bronze's knack for double (even triple) entendre reaches new stylistic and emotional levels: "I was the worst friend, couldn't see poison through veins/losing you in vain from making tracks/I shoulda stopped the train." The verse on "The Letter" and other songs on School for the Blindman cement Bronze's place among the best producer/rappers of all time.

Although this is a Bronze solo joint, as with vintage Wu-Tang — the Wiseman's direct influence — The Wisemen show up in force. Salute, Phillie, Kevlaar 7, and June Megaladon are present, each adding their distinct voice and flow to the tracks that they appear on. Each member of the Wisemen carries an aggressive but subdued demeanor. To be certain, they represent a street, workman-like ethos. I'm sure that the labor realities (or lack their of) in Detroit has something to do with this. Indeed, The Wisemen offer up an everyday-man familiarity. Plus, for those who have actually spent time in the streets because of the hard draw of life, and not because of a prospective rap career, The Wisemen are especially refreshing. They paint the scenes of daily life in the hood — the highs, lows, and ironies — with confident strokes of well-stated details.

In addition to Wisemen features, School for the Blindman also gets a literal Wu-Tang assist, as Inspectah Deck, Masta Killa, and The RZA all appear. RZA shows up on four joints (3 of them bonus cuts) and is in top form. Other features include Rain The Quiet Storm, L.A.D. aka La The Darkman, and Killah Priest.

Another paramount feature of School for the Blindman is the level of authenticity that it exudes. The feel of the whole album is as hard as it is emotional, as street gutter as it is fine art. Each song brims with confidence and emerges as an exact, creative and sure-guided piece of art. This is because Bronze is deeply conscious musically and politically (peep the Martin and Malcolm messages), and as such, he's concerned with recapturing feeling, a specific feeling, one from a soulful and more noble time in Black American history.

With this focus as a guide, there are no bells and whistles on School for the Blindman, only rough-stock beats and rhyme darts! Which means that the level of confidence — even, decadence — on School for the Blindman is the kind of natural confidence that only comes from a certainty in one's self and chosen journey. And that's just it: Right now, Bronze and the Wisemen collective are in a rap league all of their own. They draw energy from the essence of their squad; they don't come off as an overworked caricature of guys from the street. Instead, they showcase an honest handle on their station in life and demonstrate that they're an authentic and earnest crew, not a fastened together boy band masquerading as a rap clique.

When I reviewed The Wisemen's Children of a Lesser God more than a year ago, I asked, rhetorically, if The Wisemen match or surpass the Wu-Tang Clan? My answer was no, of course. But I submitted then that The Wisemen's aim and effort to stay true to their pedigree and influences is what allowed (allows) them to create something authentically theirs — something that would stand for others to attempt to emulate, match, or surpass. This, I continued, was the continuum promise of a dope pedigree. But after listening to School for the Blindman, I no longer think that the question of whether The Wisemen match or surpass the Wu-Tang Clan is applicable. Direct Wu-Tang influences aside, Bronze and The Wiseman have successfully navigated a course that now has them in a league all of their own. In today's rap scene, there are few collectives (if any) that are comparable in style, sound, weight, and consistency to The Wisemen.

BeatTips Rating Breakdown
Favorite Joints
"The Letter"
One of the most moving songs that I've heard, any genre! This hard-hitting "letter" to a dead friend, taken to soon by the jaws of drug addiction, is absolutely chilling…and beautiful. Bronze is himself on every track for sure, but on "The Letter," he travels deeper into his heart and taps into a pain that's made up of a triple cocktail of loss, confusion, and guilt. The beat (which, by the way gives a clinic on how to pitch up a sample and loop it) holds this sort of smooth rumble to it. So effective is the filtering, the chops, and mix on this joint, it sounds as if the vocal "oooing" — that rides through the better part of the track — is separate and on top of everything. And the drums, which feature a highly tucked, almost muffled kick and a punching snare that features a chorus on every 4th hit, are simply masterful. With three primary sampling elements (as far as I can tell, there could be more) that dissolve into each other, this drum-work scheme sounds even more impressive.
Bronze Nazareth - "The Letter"
Bronze Nazareth - "King of Queens"

"Fresh From The Morgue" ft. The RZA (This joint is multidimensional dope! Soon as the hook drops, you're rocking along to the song.)
"King of Queens" (Prod. Ernesto LTD)
"4th Down" ft. Salute, Kevlaar 7, Phillie (Pay attention to the sample flip on this joint!)
"Gomorrah" ft. Killah Priest (Prod. by Kevlaar 7)
"Worship" ft. Salute, Phillie, Kevlaar 7 of Wisemen
"The Records We Used to Play"
"Jesus Feet"
Bronze Nazareth feat. Killah Priest - "Gomorrah" (Prod. by Kevlar 7)

Bronze Nazareth feat. RZA - "Fresh From The Morgue"

Sureshot Singles
"4th Down" ft. Salute, Kevlaar 7, Phillie
"Carpet Burns" (bonus song)
"Gomorrah" ft. Killah Priest (Prod. by Kevlaar 7)
Worship Ft. Salute, Phillie, Kevlaar 7 of Wisemen
"King of Queens" (Prod. Ernesto LTD)
Bronze Nazarath feat. Salute, Phillie, and Kevlar 7 of Wisemen - "Worship"

Sleeper Cuts
There are no sleeper cuts on here; all of them will catch your attention on the first listen.

Gripes and Weak Moments
NONE

Final Analysis
What ultimately makes School for the Blindman sore is its very nature — a subdued, soulful — beat send-up with authentic rap voices. You get the feeling that Bronze knew what he wanted this album to be — a "school" where the echoes and retransformations of soul music helps to guide the thoughts and imagery of each listener. Thus, School for the Blindman delivers an effect that is more like a savvy, entertaining documentary, than a CGI-laden action feature film. So much authentic nuance abounds on this album that you almost miss the polish and forget that Shool for the Blindman is, afterall, a feature and not a documentary film, if we stick with the film metaphore.

I've always been of the opinion that an album should be examined (critiqued/reviewed) on what it aims to do, what it purports to be. By this metric alone, School for the Blindman gets a BeatTips Rating™ of 5. The album is a classic. Still, what makes it superb is not that it excels in what Bronze set out for it to be, but that it goes beyond. School for the Blindman demonstrates a timeless combination of theme and execution through a collection of beats and rhymes that live up to each other. And when the beat and rhyme fit as if they were born together, there's no tougher combination. This occurs again and again on School for the Blindman.

Afterword
I'm almost puzzled as to why Bronze Nazareth and the whole Wisemen collective do not receive decent, ongoing coverage by rap music publications and even those music blogs that seem to pride themselves on pushing good music to the front, trends be damned. But the Wisemen represent a continuum essence, something held over from the concept of hip hop/rap music as a quality experience that pulls you in with dope beats and rhymes and authentic nuance. The Wisemen do not fit within or defer to a caricature of "pop cool" that prioritizes smedium t-shirts, skinny jeans, fake fun or emo synth-lines. They are not an outfit of over-hyped misfit angst pushing out contrived adolescence over sub-par beats. The Wisemen are blue collar stars, indicative of Detroit, the city they rep. Moreover, they are students and masters of a specific rap aesthetic, an art style and sound that holds meaning to them (and countless others around the world). Subsequently, they're little concerned with trend-chasing critics who seem more interested in being the tastemakers of only one, often diluted branch of hip hop/rap music.

So the only reason that I'm even slightly puzzled by the lack of coverage that The Wisemen receive is because of what they represent and offer. Listen, hip hop/rap music is an indefinite music form. This means that there is no time — era, nuance, style, theme — in its vast tradition that can't be summoned up, celebrated, and mastered. But as long as music publications fail to realize this important fact, unfortunately, The Wisemen (and any groups of similar stock and trade) may get overlooked.

Here, I'm reminded of something I learned as a kid, and something I tell my son: To be true to yourself is a blessing and a burden. Fortunately, Bronze Nazareth and The Wisemen have accepted the burden along with the blessing.

---
The BeatTips Manual by Amir Said (Sa'id).
"The most trusted name in beatmaking."