An exclusive excerpt from The BeatTips Manual sheds light on how to make your own sound, and why it's one of the main way's to distinguish yourself
By AMIR SAID (SA'ID)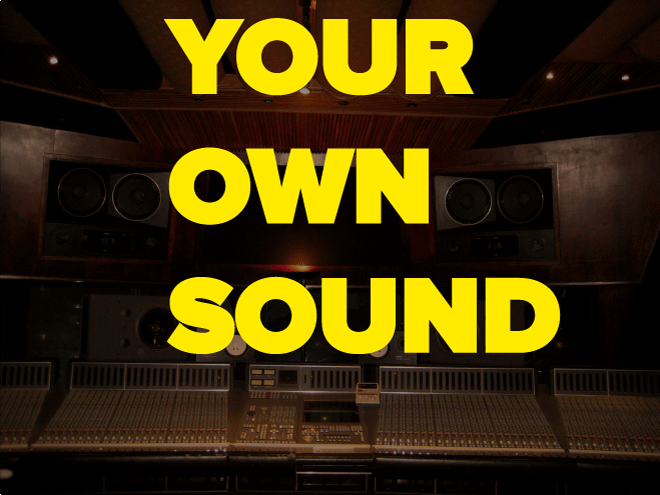 (Photo credit: Amir Said)

Regardless of what approach you ultimately take to make your beats, I can not stress enough the importance of establishing your own sound and style identity. The main reason that so many beatmakers eventually stop and give it all up is because they never develop their own sound and style identity and, subsequently, never establish their own brand of music. Though there are a number of factors that contribute to this, I believe that this phenomenon is mainly attributed to three factors: (1) the lack of thorough practice; (2) the lack of a concrete understanding and appreciation and/or respect for music history in general; and (3) the fact that many beatmakers never really learn how to translate their internal creativity through their production setups. And these days, with so many beatmakers transitioning to a ubiquitous "pop sound," there's one overlooked option that can offer just as much success and/or critical acclaim: A signature sound.

Despite what some in the beatmaking community purport, a signature sound is not necessarily a limited sound; on the contrary, it's the independent and unique sonic force that is consciously created by an individual beatmaker or beatmaking team. Also, more often than not, the signature sounds of beatmakers reflect their commitment to the principle of originality and uniqueness. And whether a signature sound is simple or complex doesn't really matter. A signature sound is a good thing because it allows a beatmaker to distinguish his (or her) music from others within the beatmaking community.

Signature sounds are also a proven phenomenon within the beatmaking and hip hop/rap traditions. From the earliest b-boy inspired DJs of the '70s to the sample wizards of the early/mid-'90s, and on to the synth/synthetic-sounds-based beat crafters of the late-'90s/early 2000s, signature sounds have been more prevalent than some beatmakers may like to acknowledge. Unfortunately, however, along with the increasing boom of interest in beatmaking, there also came a new level of seemingly acceptable biting — intentional, shameful duplication. In the past five years or so, biting (sucker style) and blatant style rip-offs have become so widespread that it's proving to be more difficult to tell one beatmaker apart from another. And with the apparent tightening up of placement opportunities within the recording industry, many beatmakers, who once would have never considered openly biting another beatmaker's style and sound, have gone over to the darkside. In this light, a signature sound is not only a way for beatmakers to distinguish their beats, it's also an effective means for protecting against wide-scale biting. Hence, if you're interested in creating your own signature sound, in the following section, I identify the six areas of beatmaking that are ideal for doing just that.

The Six Areas of Beatmaking That are Ideal for Creating a Signature Sound: Sound Frequencies, Drum Sounds, Drum Programming, Composing, Arranging, and Mixing
Note: Generating your own unique approach in the six areas that I outline below will inevitably lead to your own signature sound. But keep in mind, the process of creating a signature sound involves the deliberate repetition of many of the unique approaches and methods that you employ. That being said, here are some guidelines you might want to follow.

Sound Frequencies
Sound frequencies refers to the sound frequencies (color, tone, and character) of the type of sounds — samples, synthetic-sounds, synths, and sound effects — that a beatmaker chooses. This can be further broken down, for example, what kind of samples? Chops, long breaks (2-bar, 4-bar, 8-bar)? What kind of keyboard sounds? Strings, horns, bass sounds? What kind of synth sounds and patches? Mid, high, low frequencies? Each one of these sub-factors can offer a different path to a great signature sound.

More than any other elements of your beats, the sound frequencies that you choose play the biggest role in determining the overall mood and feel of your music. As such, it's imperative that you identify and develop a range of sound frequencies that you truly favor; that is, a range of sound frequencies that best allows you to make the musical expressions that you seek. After you identify the range of sound frequencies that you like to work with, be true to them. That is to say, try to be consistent to the sound themes, strategies, and ideas that you value, and try to avoid falling headfirst into trends and/or directions that don't fit your style and sound objectives and goals.

Drumwork: Drum Sounds and Drum Programming
Crafting custom drum sounds are a surefire way for beatmakers to create a signature sound. Remember, it has often been said that a beatmaker is only as good (or as bad) as his arsenal of drum sounds. Therefore, in order for you to create a signature sound, you must know your drum sounds. Thus, it's important to learn what each one of your drum sounds can do individually and in tandem. So, develop drum combinations and patterns that fit your overall approach to beatmaking. Also, identify what sounds and frequencies interest you. Finally, try limiting the number and types of kicks that you utilize; re-using the same three to five kicks can go a long way in establishing a signature sound.

The drum framework is perhaps the most important hallmark of a beat. Therefore, if you want to create a signature sound, your drum programming has to be distinct on some level. Drum programming at its best gets the job done. But drum programming at its worst distracts and over compensates. Thus, designing drum programs that defer to efficiency, rather than some obscene level of showmanship, is often not only the best way to go for creating a signature sound, it's also an excellent concept to observe with your beatmaking in general.

Composing and Arranging
Whatever arrangement scheme you use, always strive to create arrangements that are "steady," not too busy. Again, hip hop/rap music is mostly predicated upon a strong rhythm, not melody. Therefore, as I note throughout this study, when arranging your elements, make sure that each component makes the overall rhythm tighter, and sonically stronger. Also, when considering changes, think in terms of function before you think of form; that is, consider the function of the change — if it's needed and why. After you decide that a change is needed, be careful to create changes that compliment the main rhythm of the beat.

Mixing: Customize a Sonic Wall in the Mix
Mixing refers to the approach that beatmakers/producers may take to mixing their beats. This describes the sound dynamics that are achieved before, during, and after the beat is made. It involves things like manipulating the dynamics of each sound, through both non-effects processor techniques like tucking and panning, and effects processor techniques like EQ, compression, reverb, and limiting. Mixing offers a great way for you to create your own unique sonic impression. There are many "standard" mixing principles that can be observed. But the manipulation of these standards can often be the best way to establish your own signature mixing approach. The idea here is to establish and regularly work from your own mix settings. This will go a long way in helping you define your overall sound. For good examples of how the mix can be just as much a part of a beamaker's style and sound, study RZA, A Tribe Called Quest, Large Professor, Bink, Nottz, and Madlib.
Excerpted fromThe BeatTips Manual: Beatmaking, the Hip Hop/Rap Music Tradition, and the Common Composer by Amir Said (Sa'id). Copyright © 2014 Amir Said. With permission of the publisher, Superchamp Books. All rights reserved.
---
The BeatTips Manual by Amir Said (Sa'id).
"The most trusted name in beatmaking."