Enjoyable Beat Tape That's Consistent Throughout
By AMIR SAID (SA'ID)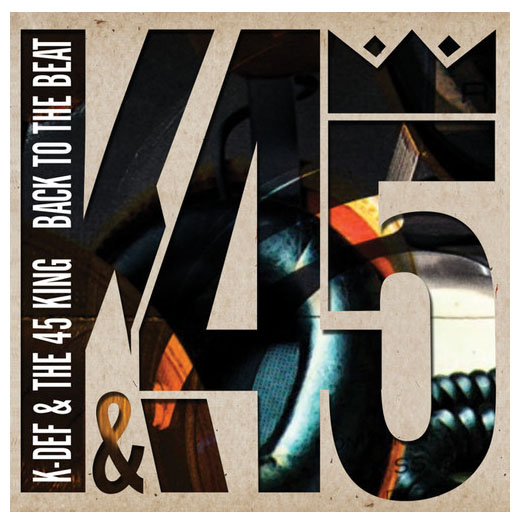 Consummate pros do what they do best.
No fuss. This is what comes to mind when listening to Back to the Beat (Redefinition Records), the sonically pleasing and refreshing new beat tape by the well-respected beat vets K-Def and The 45 King. With this collection of beats, K-Def and The 45 King — both sample-based stalwarts with DJ backgrounds — focus on grooves that highlight warm, lush, and aggressive sample-based phrases and drums that knock but never over power.

The knock factor of the beats on this collection is one of the things that I find most refreshing. Because of contemporary music's volume wars, sound dynamics have often been squeezed out of the audio picture — literally and figuratively — in favor of over compressed, master-blaster like levels; and drum sounds have all but become casualties of this audio clusterfuck. Fortunately, this is not the case with the beats on Back to the Beat, where the drums are clearly distinguishable and crisp, and the non-drum sounds are full of character.

As for my picks on the beat tape, the entire 12-beat offering is solid throughout, but "Lion," "Tiger," and "Changing Keys" are the clear winners. (Incidentally, "Tiger" and "Changing Keys" hold the distinction of being the joints that I want to rhyme on. K-Def, 45 King, let's make that happen…)

Beat tapes often leave you wondering how much better the project could have been if it had rhymes on it, or who would have sounded great over which beat. Such speculation is fun and it does make the listening experience more bearable. But as beat tapes go, Back to the Beat is quite enjoyable without vocals. I think this is both because of the various vocal snippets that lace a number of the beats on here, but also because of the high quality of the beats. An achievement that I would expect nothing less of from two consummate pros like K-Def and The 45 King.

K-Def & The 45 King - 'Back to the Beat' (Redefinition Records)