2 Legit Gets Past Radio Maschine to Win the Final Contest of 2012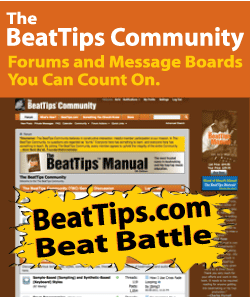 The winner: GeeWiz - ""Give Her the World""
Here's the December, 2012 BeatTips.com Beat Battle breakdown. You can also read it in TBC at: Winner of the December 2012 BeatTips.com Beat Battle Is...
And you can hear all of the beats for December, 2012's battle here: BeatTips.com Beat Battle, December, 2012
2 Legit - "Yeah Just"
Now for the March, 2012 BeatTips.com Beat Battle breakdown...
2 Legit - "Yeah Just"
This shit just simmers and cooks! Excellent example of letting the "umph" of the sample guide the arrangement. With one main change, this is a very musically disciplined joint. That color is smooth yet aggressive at the same time. Crisp production all around; not one forced or no unnecessary element, no errors at all. Instead, the beat knows its feel, as the rhythm instantly pulls you in. Finally, your mix on this beat greatly enhances the overall feeling. Dope!
2nd Place:
Radio Maschine - "My City"
Mighty polished! Beats always work best when there's a clear vision. Not only is there clarity here, there is also a perfect level of precision. The arrangement of this beat is well conceived and executed. Present in this joint is a commitment to the style and sound that you were aiming for, not some half-ass knock-off. I was thoroughly impressed with how all of the changes and dimensions of this beat meshed together. And the breakdown/bridge near the end was a nice, professional touch! This is beat is certainly ready to go on the urban/pop charts.
3rd Place:
Bwest - "Haze"
The slightly off, rumbling drumwork gives the joint the fuel to go. The bass is cooked perfectly, and the guitar echoes with the signature of a bonafide bluesman. Not an ounce of filler present in this joint. More importantly, no producer self-aggrandizing moment.
SPECIAL AWARDS
Segundo Award for Consistency and Contribution
d.C. – "Soul Live"
Man, I gotta tell you: You have a career in music scoring (and perhaps music supervision) ahead of you. Certainly, your sound has blossomed and matured. Your knack for consistently managing tempered layers, agreeable melodies, steadfast drumwork is quite impressive. This beat had a delicate but deft touch. It's a truly dynamic piece that would work for multiple movie scenes as well as rhyme styles.
---
The DJ Pas Rhyme Award for the Beat that Made Me Write a Rhyme to It
2 Legit – "Yeah Just"
(For breakdown, see 1st Place breakdown above)
Get Paid With Heart Award for the #1 Crossover Joint that Still Pays Homage to the Beatmaking Craft
Radio Maschine – "My City"
(For breakdown, see 1st Place breakdown above)
---
TBC Most Improved Award
---
Honorable Mentions:
Upright – "Levels"
One thing's for certain: You have your own style and sound. Rhythm is tight on this joint. No nonsense. Easy soundbed for a rapper to interpret.
Architect - "I Am"
Solid structure. Drums are crisp, violins—clean strokes. Arrangement well put together. Great for score music; could also work for a story rhyme.
DJ Pas - "Early Morning News"
Like Upright, you have your own clear style and sound that's rooted in your core interest. And this, brother, is serving you well. At the core of your sound is your deep appreciation for the break-beat. Thus, you have a natural break-beat sensibility; and here again with this beat, it's on display. But what's different here is your composure. Your mixing has improved, and your drum blends have become more precise.
NOTES.
Jerz-E-Ric – "Luvmystyle"
Yo, from 0:00-0:08, this joint had the strength to go the length and take the crown. Unfortunately, you made some rather questionable decisions. The piercing, "M.C. Breed" style synth line over of the top of the sample and groove was the first thing that took this beat down. It didn't fit; it was a drag on the beat. And, simply put, it wasn't needed. But the MAJOR change you incorporated at the 0:37 mark is the thing that destroyed what ultimately could have been the winning beat.
This beat was undone by overproduction—most notably, odd embellishments and awkward changes. Listen to 2 Legit's "Yeah Just." Listen to the discipline in the beat, how he manages only two changes within one theme. Conversely, listen to Radio Maschine's "My City". In his beat, there are a number of different elements and changes, but they all flow within the same theme, rather than obstruct where the beat is going.
Side note: Thing about most live beat battles and beat battles in general, is that sometimes beatmakers get caught up in doing more for the sake of doing more, as if the beat needs to account for the absence of the rapper. In fact, in many battles, people have taken to making the kind of beats (with curious changes and overbearing breakdowns) that might move the crowd or "judges" but are not the type of instrumentals that rappers could realistically write to or rhyme over. I'm not sure if you fell victim to this, but either way, never forget the rapper's (vocalist) space to get busy!
DonProductionsbeatz - "Day After"
Don P, you've regressed. At this point, I think you've tried out so many different electro and synth-like styles and sounds that you no longer know how to do what you once did best. Your beats used to have great rhythms and muscular movements. They used to sound fun. Now, they just sound like work—flat and contrived, as if the gear is dictating to you what and how to make it.
I understand we all grow, that our interests and sensibilities can change. I also understand that many sample-based beatmakers come to a crossroads where they feel the need to incorporate or switch almost completely to live instrumentation. But once your music starts sounding labored or like a poor knock-off of certain style and sound trends of the moment, you've lost your own unique sense for making beats. Bottom line: If we're not careful when we experiment or add new gear or new style/sound elements, we can get too far away from what we simply do best. When that happens, if we're not making significant strides with the new style/sound, regression sets in.
Mike Millz - "BK Boom Bap"
Too many programmed chops! You can "hear" the chops being played. The 808 sounds out of place, and with each overused chop-event in the arrangement, it all sounds awkward and distracting—something that brings on listener fatigue quickly. Such sound distraction makes it difficult for a rapper to find his footing.
Strip the beat down to its drumwork. Listen to that rhythm, then see how you can work in a more agreeable arrangement with different samples. Concentrate on not making the chop-events (where you're playing the chops) so obvious.
Final thoughts.
It felt good to get the BeatTips.com Beat Battle going again. I've said it before: It's a rewarding experience to listen to everybody's music. Moreover, I consider it to be a privilege to listen. There were some surprises in December's battle, both good and bad. Still, the one thing that remained a constant was the collective commitment of everybody who entered the battle. That should be a source of pride for everybody in our community.
As always, I want to welcome all of the new members to TBC! Each month we're growing stronger, and I count on everybody to raise the bar of our discussions and the level of our collective participation. Thank you for doing so.
The first BeatTips.com Beat Battle of 2013 will kick off next Tuesday, January 15th, so get ready!
Congratulations to 2 Legit
2 Legit email me at: [email]beattips@gmail.com[/email], include your full name and email address for where you'd like your book emailed. Also, include a pic so I can feature you on the home page of BeatTips.com, and a phone number to where you can be reached at for your interview feature.
—Sa'id
---
The BeatTips Manual by Sa'id.
"The most trusted name in beatmaking and hip hop/rap music education."