Record Gems with Open Drum Sounds
By AMIR SAID (SA'ID)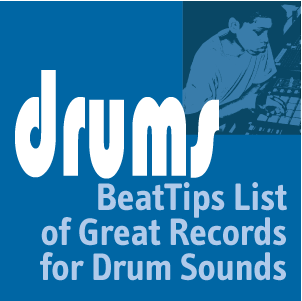 I'm a strong advocate for using custom drum sounds. And although I have no issue with stock drum sounds (I've used stock drums in the past, and I have no problem with using them in the future) I believe that one of the most effective ways of creating your own style and sound is through the use of your own customized drum sounds.
That being said, I will be compiling an ongoing list—the BeatTips List of Great Records for Drum Sounds—of ALL of the records that I (and many others) have found to be great for drum sounds. For each installment or volume of the list, I will try to post at least five songs. Furthermore, this list will also include those songs that I have studied as a guide for drum pattern arrangements. And it is my hope that the songs on this list well help serve as a guide for those who want to tune the drum sounds that they already have to the sounds showcased on this list.
Finally, although some readers will note that there are some obvious choices that should be on this list, please bear with me, as I will be rolling out this list periodically without, necessarily, any preference to the most well-known "break-beats" (this is not a list of break-beat records). In fact, I suspect some songs on this ongoing list will surprise some of you. But after a "full-listen" of the record, you'll see just why it earned a spot. Still as always, I invite discussion. So any and all suggestions, whether well-known or obscure, are certainly welcome.

The music and videos below are presented here for the purpose of scholarship.
The Bar-Kays - "Humpin'"
Kick and snare at 0:00-0:04 mark. Break at 0:07-0:09 mark. Another break with organ over the top at the 1:11 -1:14 mark.
---
Bernard "Pretty" Purdie - "Funky Donkey"
You can never go wrong with drummer Bernard "Pretty" Purdie's stuff. Here, on "Funky Donkey" you kick and snares at different tones and velocity as well as heavy, airy reverb. Everything fromm 0:00-0:09 is great.
---
Rufus Thomas - "Do the Funky Penguin"
Kick, snare, and break from 0:00-0:07 mark; open hi-hat at 0:08.
---
Ohio Players - "I Want to Be Free"
A classic joint worth listening to in heavy rotation. But for the purposes of drum sounds, check: Crash snare to open the cut, then a drum fill, tom toms: 0:01-0;05; kick, snare, hat at 3:28.
---
Dennis Coffey - "Scorpio"
0:00-0:02: quick snare and tom fill; 1:08-2:00: kicks, snares, long breaks.
---
The BeatTips Manual by Amir Said (Sa'id).
"The most trusted name in beatmaking."