Vinyl Reissues Offer True Value in More Ways than One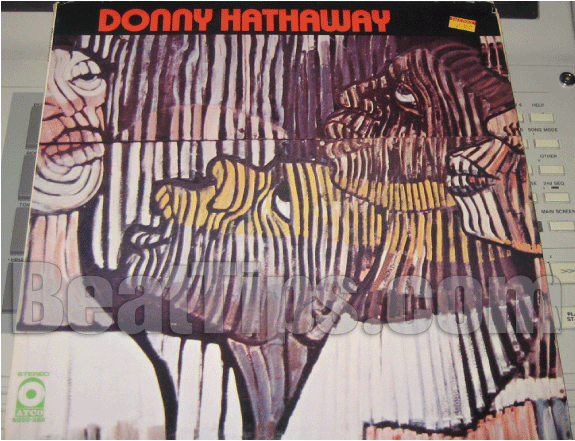 This past Wednesday, I spent a brief part of the afternoon diggin' through vinyl records at a shop over on St. Marks Place, down in the East Village. Although it was a scorching hot pre-summer New York City day, I never did take the opportunity to actually enter the store and get a blast of their air conditioning inside. Instead, I stayed outside in front of the store, diggin' through their "tease" crates of soul, latin funk, and jazz.
Sitting atop several long tables, these crates were loaded with a number of gems, many of which I already have, and a few I'd never been able to get my hand on in the past. Also, in there were two albums that stood out above all the others: Donny Hathaway's Everything Is Everything and Donny Hathaway.
Arguably Hathaway's greatest album and certainly one of my all-time favorites, Everything Is Everything is a masterful piece of soul music that stings your heart and tugs at your body. Self-dubbed as one of my personal "must-haves," I spent nearly five years (more than a decade ago) trying to land a copy of Everything Is Everything. Previously, I'd been able to hold on to several borrowed copies of this LP. Unfortunately, this was one of those albums that people always remembered to ask me to return.
When I obtained my own copy of Everything Is Everything (for $100!), I remember vowing to never lend it out to anyone. It was an original print, near mint copy with one of the cleanest covers (less-worn) I'd ever seen. And I wasn't about to risk losing this gem; it wasn't easy for me to get, and therefore, I maintained, I'd make sure that it would be difficult for me to ever let go. Well, after a couple of moves and a series of vinyl collection re-locations, my copies of Everything Is Everything and Donny Hathaway turned up missing.
It would take another couple of years before I was able to replace both albums. Moreover, it cost me $65 for another copy of Everything Is Everything, and $59 for another copy of Donny Hathaway, neither of which were anywhere near the condition of the one that I had before. So imagine the reverse sticker-shock I felt when I came across a sealed copy of Everything Is Everything and Donny Hathaway, sitting right there in an old milk crate, sandwiched between two sealed copies of Gil Scott-Heron's Pieces of a Man. All four records, $12 each! Goldmine! I thought. Then it hit me: These albums were reissues...
To some (particularly die-hard purist diggers/collectors), reissues might hold little to no appeal. And there are some sample-based beatmakers who will claim that using reissued vinyl is not quite the same thing as using the "real deal," that is to say, vinyl pressed on or near the recording's original release date. To be fair, that's not entirely untrue.
Part of the appeal of original print vinyl is its oldness—it's dusty, scratchy nature. Furthermore, there's the matter of the recording used for the reissue. Does the reissue contain the original master recording—with all of its mixed glory—, or does it use a remastered version? The particular sound that a reissued vinyl record possesses is important to me. I'm not interested in vinyl that carries a remastered version of the original work. But despite some minor misgivings of using reissued vinyl, I see reissued vinyl—and here, I'm specifically referring to "exact reproduction" reissued vinyl, not the re-mastered stuff—as a good (if not great) thing, for a number of reasons.
First, reissued vinyl gives beatmakers (new and old) the chance to have access to wonderful, era-defining recordings in the vinyl format. And although other audio formats (CD, MP3, .WAV) can indeed serve the purposes of sampling, there can be no denying that working with vinyl presents an entirely different feel and aesthetic.
Second, vinyl reissues (sometimes the only option if you're searching for a vinyl recording) offers beatmakers a lesson in sound quality and the audio nuance of recordings from more than 30 years ago—before the digital takeover. By being able to hear the differences in recordings, the tones, colors, and overall sonic impressions, you can extract a number of different musical ideas and sonic frameworks to apply to the sound design of your own beats.
Third, vinyl reissues, by virtue of their format, extend the connection between beatmakers and vinyl, and like sampling itself, they can help reconnect beatmakers to the DJing component of beatmaking. There are a growing number of beatmakers who are interested in working with vinyl, but because of the often difficult nature of obtaining vinyl (i.e., a sparse number of used vinyl records stores around the world), they are not able to get their hands on any. Vinyl reissues addresses this interest (demand) and makes a whole host of great recordings available in the vinyl format, both online and even at some stores that carry new CDs and other related merchandise.
Finally, vinyl reissues help decrease the vinyl record accessibility gap that exists today. No doubt vinyl reissues provide a means for many beatmakers to access vinyl records that they would not otherwise be able to. Moreover, most vinyl reissues are reasonably priced and available online. With increased accessibility comes the potential for scores of music makers to discover (or rediscover) quality music styles and sounds that have, unfortunately, been forgotten.
Bottom Line
Exact reproduction reissued vinyl is a win/win, and I expect even more recordings to be reissued on vinyl. And although the journey of getting *new* vinyl has long been an arduous one (more so now because the availability of used vinyl records is thin), the emergence of reissues of classic works (especially from a number of the most formidable recording artists of soul, funk, and jazz) is making this journey for beat diggers much more agreeable.
---
The BeatTips Manual by Sa'id.
"The most trusted source for information on beatmaking and hip hop/rap music education."