Getting to the Rhythm, So I Can Get to the Rhyme
"As a beatmaker, rhythm is fundamental to any structure I compose. As a rapper, rhythm is vital!" —Sa'id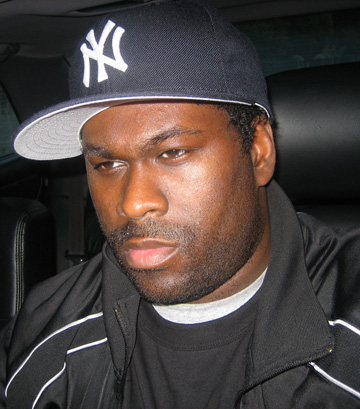 A couple of weeks before I made and recorded "Before We Started Fightin'," I had been experimenting with extended bar structures. That is to say, rather than doubling up 1-, 2-, and 4-bar schemes, I was exploring the use of 8- and 12-bar frameworks. Throughout this exploration, I learned a number of different things. I learned new ways to anchor my beats with lightly syncopated drum patterns; I learned more about blending separate sampled pieces into single cohesive riffs; I learned more about why certain changes work better at specific points within a sequence, depending, of course, on the number of bars in the sequence; and I learned how "double time" tempos of longer bar structures could be manipulated in ways that allowed me to avoid timing correct (quantizing).
So it was the "double time"/bar structure manipulation discovery that had the most impact on how I made "Before We Started Fightin'." As a rhymer, I like to push past the typical AB AB AB AB rhyme scheme, and come up with new rhyme paths. So as a beatmaker, my focus is always on capturing the sort of rhythms that will allow me to create the vocal syncopation that best matches the idea, topic, or subject matter that I'm rhymin' about. Moreover, I don't see my vocalization as something separate from the mix; instead, I like to view my rhymes as just another instrument in the mix. (I will be writing more about that in an upcoming article.)
So when I came up with the idea—a semi-autobiographical story about a guy who realizes (almost too late) that his girl has just double-crossed him—, I wanted a beat structure that was aggressive, but not overpowering. I wanted something that would rumble in the beginning, then taper off at the end of the sequence. I also wanted something that didn't easily fit into 4/4. After re-arranging what was initially a *12-bar* sample, I chopped off 3 bars (shaving the tail of the main sample), and started experimenting with a 9-bar sequence, adding a lone snare on "the one" (rather than a kick) with a piece of silence, right before the main sample starts. Then I added in a hi-hat that I played straight through, live, with no timing correct. After that, I color everything with random low-velocity kicks. I had also added another guitar sample, but it distracted me when I was writing my rhyme; so I stripped it from the beat, and added one more hi-hat, and I was done.
For the mix, I EQ'd the bass in a way that turned up the rumble that I wanted. In contrast, I peeled back the highs to temper the vinyl static and to allow my vocals to come through stronger without using any compression. I tucked the hi-hats and kicks in the mix, so that they blended more with the main sample.

The music below is presented here for the purpose of scholarship
Sa'id - "Before We Started Fightin'" (prod. by Sa'id)
Download Sa'id - "Before We Started Fightin''
---
The BeatTips Manual by Sa'id.
"The most trusted source for information on beatmaking and hip hop/rap music education."