Good Production and Distinct Lyricism Marks This High Energy 90s Staple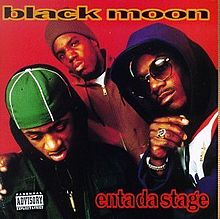 Editor's note: I'm a strong advocate for music that stands the test of time. When new music is released in a particular period, each subsequent generation of listeners is entitled to its own opinion of the music that became before them. Presumably, one of the biggest reasons why some music stands the test of time and is ultimately deemed a classic is precisely because generation after generation acknowledges its beauty, power, or overall impact. In hip hop/rap music, there are a number of classic albums and songs that have become canonical (important, influential, and well-recognized works). Unfortunately, however, when these classics are re-visited, typically as retrospectives, they are done so mostly by those who were around for the initial releases of aforementioned classics.
I wanted to get beyond the retrospective treatment (as much as realistically possible) of widely recognized classics and present the reviews of these classics from music listeners of today's generation, ideally those who have only just heard well-regarded classics from the 70s, 80s, and the 90s. This is why I created the "Fresh Ears and Classics" column: To offer a spotlight and review of much celebrated hip hop/rap works, from the perspective of generations at least 10 years removed from the initial release, along with my own brief analysis when warranted. Free from the marketing, politics, and other music industry conditions of the time, it is my hope that these reviews will present a fresh and honest look at hip hop/rap's most commonly revered releases.
—Amir Said (Sa'id)
---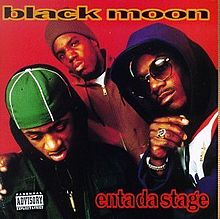 What does it take for a hip hop album to be called a classic? I think that the word "classic" gets thrown around so much these days that its meaning doesn't have much power. I think a classic hip hop album is something that is determined with time. That is to say, in order for a hip hop album to be called "classic," it has to be timeless and powerful enough to influence future generations long after its initial release.

As someone born in the mid 1980s, I often wonder if the rappers and beatmakers (producers) made famous in the 90's knew how much their music would affect my generation almost 20 years later. These days I find myself listening to these classic 90's albums (boom bap notables mostly) for the first time. Reason why? I'm from Georgia (I've never been to New York). So back in the 90's when I was only 9 years old, I wasn't aware of them. And I wasn't going to record stores to buy CDs or cassettes (no money) anyway. Furthermore, the internet definitely wasn't then what it is today.
So with that said, and with the suggestion and encouragement of Sa'id, what I want to do is explore and evaluate these so called "classic" albums with a fresh ear from the point of view of an adult in his late twenties, one who's been making boom bap beats for almost ten years now.
First up… Black Moon - Enta Da Stage
(Note: For these "Fresh Ears and Classics" reviews, I will listen to each album at least twice before offering my thoughts.)
Before I offer my thoughts on Black Moon's Enta Da Stage, I should provide a little backstory as to how I came across the group Black Moon. It was 2003. I was sitting in my Georgia State dorm room, surfing the internet. I came across an article (on one of the music sites that I frequented at the time) that stated that there was a controversy in the hip hop community surrounding Just Blaze's use of a sample for Jay-Z's "Public Service Announcement." According to the article, Just Blaze used the same sample that Black Moon used for their song "Stay Real." I remember thinking to myself then, Who the hell is Black Moon? And I immediately wanted to find the sample that was used; I also wanted to know how these Black Moon people used it. I started searching around the internet and found the answers to both questions.
Due to my own ignorance, I dismissed Black Moon as just some underground dudes. And I assumed that Just Blaze used the sample better because he was well known. (I remember reading later that Just Blaze actually hadn't heard the Black Moon record when he made "P.S.A." He stated that it was just a coincidence that he used the same sample.)
A few years later, I saw Black Moon's name repeatedly, as I increased my beatmaking knowledge and skills through hip hop music study (including reading The BeatTips Manual). Through studying, I learned that Black Moon was a group of three guys from New York (Buckshot, Evil Dee, and 5 foot) that dropped their first official album, Enta Da Stage, in 1993. I also learned that the beats were made by one of the group's members, DJ Evil Dee, and his brother, Mr. Walt, together known as Da Beatminerz. After reading a little back history of the album, I anxiously anticipated hearing it because (A) The production was done by two brothers; and (B)
People called it a "classic" album.
After listening to Enta Da Stage a few times, I think it's a good (not great) album. I think Enta Da Stage filled a niche that was around at the time of its release. The album is very high energy and rowdy. Most of the hooks consist of a group of people authoritatively yelling, which I could see causing a lot of excitement and ruckus/fights in the clubs and house parties around the world. The lyrics, while not the most lyrical that I've ever heard, still hold their own against the dark production. But that said, the shining star of Enta Da Stage is definitely the production.
The way that Da Beatminerz utilized the small amount of sample time and other limits of their equipment (SP 1200 and S950 combo, I believe) show that they possessed the skills of finding rare records and making gold out of them. Their use of the "low end theory" and lo-fi filtering of loops is nothing less than remarkable. The one downfall that I think Enta Da Stage suffers from is the lack of a signature sound. Half way through the album, I felt as if I knew what was coming next, especially production wise. Still, since there is only one production sound on Enta Da Stage , the album sounds cohesive. But overall, it can become a bit overbearing and tiresome on the ears. None the less, as I stated earlier, I think Enta Da Stage is a good (not great) album. And while I understand why it's been deemed a classic, I'm not entirely sure that it still holds up today.
---
Editor's note: Black Moon's Enta Da Stage offered up more than five highly regarded and influential songs, including the quintessential classic "Who Got Da Props," "How Many M.C.s…" (my favorite off the album), "I Got Cha Opin," "Niguz Talk Shit," "Buck Em Down," "Slave," "Enta Da Stage," and "Shit Iz Real." This alone, in my opinion, places it firmly in the realm of classic hip hop/rap albums. But I would be remiss if I made no mention of both Buckshot's distinct rhyme style and Da Beatminerz stellar production. Having listened to Enta Da Stage myself recently, in preparation for Bing's review, I believe that its weight and quality does indeed still hold up, especially when you consider the number of classic hip hop/rap albums that soon followed and was no doubt influenced by it (Havoc, of Mobb Deep, even appears on Enta Da Stage, proving a direct link to Mobb Deep's The Infamous). Bottom line: Whether it moves you a great or good deal, Black Moon's Enta Da Stage is one of hip hop/rap's canonical albums that deserves studying (at least one listen) by any serious beatmaker (producer) or rapper.
The music below is presented here for the purpose of scholarship.
Black Moon - Enta Da Stage
The BeatTips Manual by Sa'id.
"The most trusted name in beatmaking and hip hop/rap music education."