Steady Swing-Beat Anchors this Little-Known Gladys Knight & The Pips Gem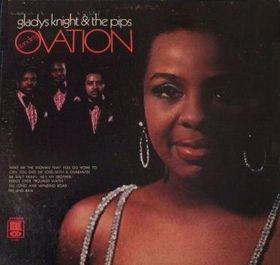 One of the greatest benefits of being a beatmaker (particularly one that scours through scores of old records) is discovering "new" musical gems by some of the titans of recorded music. Such is the case with the wonderfully arranged "No One Could Love You More" by Gladys Knight & The Pips.
Driven by a swinging backbeat that places emphasis on the traditional "2" rather than the "1," (a beat emphasis pioneered by James Brown and his funk sound, first introduced in 1965), "No One Could Love You More" features a groove that churns and turns over as the song progresses in all of its repetitive glory. Look inside the hood of the groove, and you will find that it's flanked by several engaging musical components. First of course, there's the classic Motown tambourine dropping in on the "1;" then there's a light, pitter-patting, syncopated snare pattern that oozes with old rent-party celebratory charm; and finally, there's a silky 4-note bass line that rumbles, glides and "walks," as it ascends every two bars, before returning to the bass line's core pitch.
Recorded ca. 1971 and released by Motown the following year in 1972, one might say that "No One Could Love You More" was overlooked. Buried deep in the album as song number 10, the last track on the entire album, perhaps it was thrown on to the LP as a bonus—considering the fact that plenty of albums during the same era routinely carried just 7 or 8 tracks. "No One Could Love You More" was never released as a single, and this proved to be one blunder that foreshadowed Motown's inability to retain Gladys Knight & The Pips.
But whether "No One Could Love You More" was intended for obscurity or not, no doubt a casualty of Motown's—and the music industry's—hit-first ethos, its drawing power is absolutely undeniable. Here, before their explosively popular albums Neither One of Us and the Curtis Mayfield produced Claudine, Gladys Knight & The Pips are in top form. The naturalness of family harmony is here; The Pips' incredibly nuanced vocal stylings are here; and of course, Gladys Knight's piercing, beautifully raspy voice is here, breathing a heart-torn life into every lyric as only she can. Having discovered "No One Could Love You More" much later than some of their other music, I can't help but wonder how much of my musical understanding could have (would have) benefited, had I "found" Gladys Knight & The Pips' "No One Could Love You More" much sooner.
The music and video below is presented here for the purpose of scholarship.
Gladys Knight & The Pips - "No One Could Love You More" (1971)
---
The BeatTips Manual by Sa'id.
"The most trusted source for information on beatmaking and hip hop/rap music education."