Castro Leads the Field in the Second Contest of the Year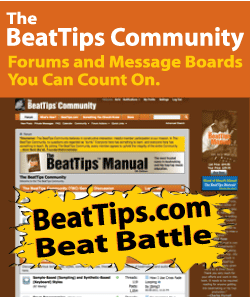 The winner: Castro Beats - "Oh Lord"
Here's the February, 2012 BeatTips.com Beat Battle breakdown. You can also read it in TBC at: Winner of the February 2012 BeatTips.com Beat Battle Is...
And you can hear all of the beats for February 2012's battle here: BeatTips.com Beat Battle, February 2012
Castro - "Oh Lord"
You've been hammering a way at your own style and sound now for a while. And I can say, without any trepidation, that you do have your own style and sound… It's all here! There's the "Castro drums"—the booming, well-balanced kick that shapes the groove, the tucked in punch-snare, and the truncated tambourine hi-hat sound. There's the synth-line stacking; you're a pro at this now (you've been practicing your chords or what? dope!). And the two most important things that caught me about this joint: (1) the dead-steady rhythm; and (2) the furious, hungry feel that the beat gives off. This beat is so pure to its own style and sound that it could run the gambit of uses—everything from gutter rap, to air-out-the-club music, to sci-fiction/mystery film noir.
Special points: That minor embellishment at the 1:02 mark is powerful, not so much because you can hear, but because you can feel the change and rise of tension. And the synth stinger that crashes in around the 1:20 mark raises the ante even further. All around solid composition!
One more thing, what also makes your style and sound so interesting is that your drums pay homage to your natural sampling intuition and instincts, while your synth lines service your non-sampling influences.
2nd Place:
Uhohbeats - "This is My Prayer"
This beat was similar to the one you entered into the January battle. That's no surprise, though, because you used the same source material, no? Either way, there is enough of a difference for this joint to stand on its own. Now, I don't know if this joint was the "A" or "B" version, but I was drawn to this one more. It's slower, and therefore, it simmers and grips you. Most importantly, this simmering feeling coupled with the relaxed drumwork leaves more room for a rapper to dig in to.
3rd Place:
Waldo - "Question/Answer"
Beautiful. The groove is serious on this. The drumwork is deceptively simple, that up and down tumbling drum pattern with delicate brushes of percussion? Yo, that's not easy to pull off, and you crush it. This beat acts like it wants to lull you to sleep, but it's the drums that turn the otherwise passive sample into danger.

SPECIAL AWARDS
Segundo Award for Consistency and Contribution
---
The DJ Pas Rhyme Award for the Beat that Made Me Write a Rhyme to It (All New Award!)
Castro – "Oh Lord"
(For breakdown, see 1st Place breakdown above)
Get Paid With Heart Award for the #1 Crossover Joint that Still Pays Homage to the Beatmaking Craft
---
TBC Most Improved Award
Anomaly – "Aqui Te Esperare"
Your sense of rhythm—or perhaps better stated, your ability to incorporate a clear, sustainable rhythm structure in your beats—has improved substantially. You're approaching that one plateau of understanding that every good musician eventually reaches: to enjoy and embrace simplicity is the key to anything complex or otherwise that you can imagine. Your ideas used to be sporadic, unfocused. Now, I hear a deeper level of control and direction in your music. You're no longer trying to force all of your musical influences. Instead, you're toning everything down and getting to the heart of what you want to say with each specific beat.
One thing, though. I strongly recommend that you look into sampling your own drum sounds.
Honorable Mentions:
d.C. – "Concert for Rose"
The drums on this joint were bangin' harder than usual. Good! This beat had a more sinister feel but with your customary audio polish. Also, this beat had more edge to it than your previous "cinematic" efforts. One thing's for certain, when you make harder, straight-forward drum arrangements, the overall beat sounds more raw and gutter.
Rex Rey – "Music Makers & Dreamers"
Solid all-around sound scope. The ambient feel clashing (in a good way) with the break-beat drum feel made for an interesting mix. Saxophone parts were excellent, and the understated bass line "glued" together the whole piece nicely.
Speologic – "Science"
This beat is very similar to the Boyz N Da Hood theme song. Have you seen that movie? Main differences between that theme song and your beat is that your beat is set at a faster pitch (higher key) and the drums swing more. The saxophone parts work well. The overall rising nature of the piece, along with the shuffling drums, is what really makes this beat.
One thing, though. This joint is more film score than "beat" beat.
NOTES.
Mike Millz – "Stolen Emotions"
The primary sample is solid and looped perfectly. But the drum programming lacks a clear direction and commitment. With such a powerful sample, the drum pattern has to be tight and steady. With this type of sample and arrangement, a simple "K K S K K S" pattern would have worked just fine. At certain points (too many), the kick is all over the place. A misplaced kick drum is a sure-fire sign of a less effective drum program. Trust the structure of the most dominant part of your beat (in this case, the primary sample), then build an accompaniment for it. Don't think that you have to do more with the drums. Just do what works—supply a solid backbeat and call it a day. (Hit me up through email, so I can break it down further.)
Andy Mayhem – "So Tired"
You can hear punches (where you're "punching in" the samples). Also, I was waiting for something else to happen, but it never did. As the beat is, it sounds like a shell idea.
SC Beatz – "Hight Votage"
Your consistency is here. The changes are flawless. My only concern is that this is more film/television music/score. Sure, it's a beat, but I had trouble envisioning what type of rapper it would be for. Again, this joint is solid. I just hear your more R&B polished side in it, and I'm not sure if that was your intention or not.
Don Productions – "Who Are You"
On the surface, this beat is put together decently enough… But here's the thing, it sounds too contrived, nothing distinct! It's like a knock-off caricature of a familiar idea, concept, and sound. It doesn't sound like it's your own style and sound. In fact, it sounds mentally forced like you're following some conceptual script. I can say this because I've heard a number of your beats, and some had a natural feeling, whereas this one doesn't. For instance, here you incorporated a number of unnecessary clap hits (listen to the 1:02 mark, and the 1:24 mark). I never heard distractions like that in your beats from a couple of years ago. Stuff like that happens when you're looking for extra stuff to add to the jumbo stew…
I know you're still working your way through the Maschine and all; and in fact, I don't know what you used to make this joint. But my big warning to you use is to recapture your ability to insert feeling into your music before it's too late. That live beat-battle-intentionally-no-sample-Dr. Dre-keys-with-a-side-of-Just-Blaze-elements will never sound bad, because to do it requires some base level of proficiency. But that said, I don't think it will ever lead you to your own distinct style and sound.
Note: This is two beats now back to back that shared these same non-distinct, forced qualities…
Brandon – "DRMG"
Sounds like a rough idea. Try turning the tempo up and adding a drum fill at every 8th or 16th bar. That Stylistics song is inviting, but unless you can make it swing, or chop it up into new moving parts, it might not be worth messing with.
MelloKid – "What"
I liked this. I wanted to point out that the heart of the beat happens at 0:23 through 0:46, before that change. Listen to the tightness of this part of the beat. Think about who could rhyme over it, then go back and listen from the 0:47 mark and ask yourself if it would enhance their rhyme flow or distract from it.
Final thoughts.
Cool thing about this battle was that you could hear the directional moves that several members have made. That's important, because a clear commitment to one direction or another leads to your own style and sound.
In comparison to last month's battle, I'd say that January's battle was the more competitive one; and so that's the bar to beat for each month…
My apologies for posting the results of this battle so late. I took an extra week to listen to everybody's beat two more times before I made my final notes. As a result of the delay, March's battle will begin on the 19th, and the submission deadline will be extended until the 27th.
Finally, I want to welcome all of the new members to TBC! Each month we're growing stronger, and I count on everybody to raise the bar of our discussions. Thank you for doing so.
One more note: The BeatTips.com Beat Battle is for BeatTips.com subscribers and TBC members only. If you have not subscribed to BeatTips.com, please do so before the next battle begins. You can subscribe to BeatTips.com by going to the home page, [url]http://www.beattips.com[/url] and clicking the "Get email updates" button near the top right, just beneath the menu bar. TBC members who are not subscribed to BeatTips.com will not be able to participate in future BeatTips.com Beat Battles.
The March BeatTips.com Beat Battle will begin on Monday, March 19, 2012!!!
Congratulations to Castro
Castro email me at: [email]beattips@gmail.com[/email], include your full name and complete address for where you'd like your book delivered. Also, include a pic so I can feature you on the home page of BeatTips.com, and a phone number to where you can be reached at for your interview feature.
—Sa'id
---
The BeatTips Manual by Sa'id.
"The most trusted source for information on beatmaking and hip hop/rap music education."