Music Producers Worthy of Serious Study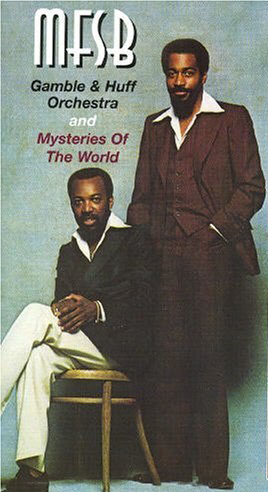 Soul music historians can say what they will about the Motown Sound. Many argue that it is the most recognizable sound ever recorded by any single record label. That's cool. But the "Philly Sound," the sound relentlessly ushered forward by the famed production duo, Kenneth Gamble & Leon Huff, is, in my opinion, the meanest, most soulfully consistent sound ever recorded. Pure inner city soul music that just cooked! Their sound was one of the most disciplined, gimmick-free, distinctive sounds that I've ever heard.
In 1971, Gamble & Huff started Philadelphia International Records. Throughout the balance of the 1970s, the pair worked jointly on songwriting and production for many of the biggest soul recording artists of the era. In their prime, you could stick any artist with Gamble & Huff, and it was a guarantee that that artist would improve 100% fold! When they produced for an artist, they didn't just rent out their sound, like many of today's prominent hip hop/rap production teams. On the contrary, Gamble & Huff lent their sound to an artist, and asked that artist to simply enhance it.
The team put together by Gamble & Huff also included arrangers Thom Bell (who grew up with Gamble in the same neighborhood) and Bobby Martin. And like Motown's Funk Brothers, Philadelphia International Records' house band, MFSB, (a rough-city group made up of Philly veteran studio session and road players), kept Gamble & Huff's signature sound steady and ready with smooth time, velvet harmonies, and pulsating rhythm.
Whether it was love slow jams, disco, or raw soul, the duo injected their sound, which was an infusion of different eras of soul music (notably doo woop and 60s R&B). Gamble & Huff were also champions of humanitarianism. Much of their songwriting contained unflinching social commentary. In fact, Gamble once stated: "We wanted to take social themes and translate them to commercial recordings."
For educational purposes...
The O'Jays "Who Am I," produced by Gamble & Huff
---
The BeatTips Manual by Sa'id.
"The most trusted source for information on beatmaking and hip hop/rap music education."