To Understand Key Elements of the Drums in Soul, Funk, and Disco, It's Important to Be Familiar with those Music Forms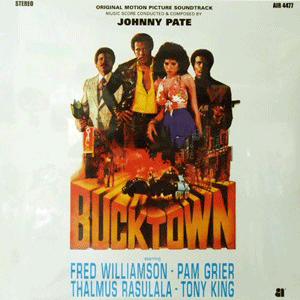 While many beatmakers might be aware of the connection between soul, funk, and disco to hip hop/rap music, it's not always so clear to see, or better yet to hear, exactly how soul/funk set the foundation for hip hop/rap music and beatmaking. Well, within the overall rhythmic influences of these musics, lies the most glaring connection: the drums.
Below I've included Johnny Pate's "Bucktown (Main Theme)," a song from the 1975 action ("blaxpoitation") flick Bucktown. I chose this song because it straddles soul, funk, and disco all at once; a sound that, in 1975, sat as a unique mix of the three forms right before the complete onslaught of disco. For our purposes here, with this song what you want to focus your attention on is the drum framework; you can hear the drums best between the 0:17 - 0:49 marks. Notice what it sounds like? If it were just the drums, wouldn't most describe it as a hip hop/rap drum beat? And therein lies the point...
Which brings me to this: I receive a number of emails and private messages in The BeatTips Community (TBC) from people concerned about making their drums "funky", "funkier", or "more soulful". Invariably, I always ask, "Well, are you listening to any funk or soul?" In every case that I've replied back with this question, the answer reply has always been the same..."No." Further, in every case, the answer have also included this, "I want my drums to sound like..." DJ Premier, Pete Rock, J Dilla...and so on.
Imagine wanting to talk (sound) like a supreme court justice or a successful corporate lawyer without ever studying jurisprudence (law theory, philosophy, etc.). Although the art of beatmaking and making music in general is altogether a different practice and culture, I find it just as ludicrous to want to make "funky" or "soulful" drums without ever studying or listening to funk or soul music.
When someone says that they want to make drums that sound like some of beatmaking's most notable pioneers, I get it. For many, it's just a reference point for the style and sound that they like; it's the zone in which they'd like to work from. Understandable. But what's usually lost in this oft-repeated statement is the fact that all of beatmaking's notable pioneers studied and listened to funk, soul, and disco. Though each pioneer ultimately emerged with their own unique style and sound (of course, they are all collectively representative of the same fundamental understanding), they did not arrive without clear guides from funk, soul, and disco drum arrangements.

But beatmaking pioneers notwithstanding, it's misleading to believe that one can understand how to inject soul music's influence into their beats, or make something funkier, or add a disco backbeat, while being completely unfamiliar with soul, funk, or disco. (How can one know to include key elements and stylings of musics that they've never listened to before?) Such a prospect is so fundamentally flawed that it can produce a false sense of musical understanding— something that can certainly disrupt the development of any beatmaker.
And while some beatmakers can perhaps clone a DJ Premier or Pete Rock drum pattern, this type of mimicry does not serve as a substitute for the original thing! For one, obviously mimicked styles stand as clear and unabashed cheap knock-offs of someone else, just mere shells of ideas without the essence or subtle nuances of the original creators. But worse, this form of mimicry mostly exists devoid of the caliber of knowledge, understanding, and general music appreciation that produced the original benchmarks.
This is why I believe that it's important that beatmakers not lose a sense of the fundamental connection that hip hop/rap music and the art of beatmaking has with the soul, funk, and disco music forms, especially when it comes to the drums in hip hop/rap music. With a strong sense of this connection, your production repertoire—no matter how varied, whether you're sample-based or not—will always retain its link to hip hop/rap's foundational elements. But without a sense of this connection, your production repertoire runs the risk of losing this crucial link.
The music below is presented here for the purpose of scholarship.
---
The BeatTips Manual by Sa'id.
"The most trusted name in beatmaking and hip hop/rap music education."